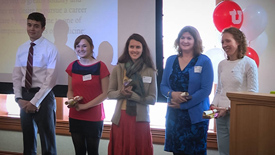 The patient, lying in a bed at University Hospital, had a simple request for volunteer Dan Mackintosh: Could Mackintosh oversee an impromptu wedding ceremony in the patient's hospital room?
The patient had been sick for weeks but realized he wanted to marry his girlfriend, even if it meant saying vows from his hospital bed. Mackintosh, a longtime University Hospital volunteer, was happy to oblige —and even let the groom borrow his own wedding ring for the affair.
"He didn't have a ring to give to his bride, so I took off my wedding ring and she gave it to him during their ceremony," recalls Mackintosh, who lives in Cottonwood Heights and works full-time selling surgical equipment in addition to his role as a beloved hospital volunteer.
"A week later I came back to visit and he said, 'Oh, here, you better take your ring back before I get too used to it.'"
Stories like Mackintosh's abound among nearly 400 volunteers who choose to spend their time giving back to patients at University of Utah Health year-round. Volunteers were recognized for their contributions at a luncheon on Tuesday, where five student volunteers were awarded scholarships and several longtime volunteers where honored with awards for their service.
Mackintosh received the "Cockayne Award" —a special distinction for a hospital volunteer who has gone above and beyond in caring for patients. Mackintosh started volunteering at University Hospital more than a decade ago as part of a church calling. He loved the experience so much that he decided to continue his work after he finished with his time volunteering through the church. He went through a special training for volunteers interested in providing spiritual care and has since regularly visited patients to help with a variety of needs.
Whether it's counseling families who have decided to take a loved one off life support or helping patients in difficult circumstances talk about spiritual issues, Mackintosh is known as a trustworthy ear who brings calm and comfort to many.
Although Mackintosh has helped countless patients, he believes he is the one whose life is enriched through volunteer work at the hospital.
"I enjoy the people. I tend to think that we (the volunteers) get the better deal in this whole thing, because of the amazing people we meet," Mackintosh said. "There's a saying that life is better not by chance, but by change. I think that's what most of the volunteers do up here, they make changes to make lives better."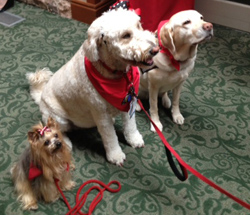 David Entwistle, CEO of University of Utah Hospitals and Clinics, said volunteers like Mackintosh enhance patients' experiences. He used a quote by Ghandi to describe the hospital's nearly 400 volunteers who contributed a combined 62,000 hours of service over the last year.
"The best way to find yourself is to lose yourself in service to others," Entwistle said. "That typifies University Hospital volunteers, who take time away from their families and hobbies to help patients."
Entwistle noted that in 2013 volunteerism increased by approximately 7 percent from the previous year. Volunteers serve in 67 areas of the hospital and the in-kind contribution of the hours they work is estimated at $1.4 million, Entwistle said.
Volunteers aren't limited to humans, either. Also at the luncheon were three therapy dogs, Oliver, Annie and Diva – who spend countless hours with patients, and deliver plenty of smiles in the process.
Lori Tavey, the volunteer program coordinator, said people who donate their time at the hospital enrich the community. From friendly faces at the hospital's front desk when patients arrive, to piano players in the lobby, and students who deliver snacks to patients —volunteers are an essential part of creating a quality hospital experience, she said.
"We grow by lifting others," said Tavey. "I just would like our volunteers to know how they really do make such a difference in the lives of our patients."
Interested in volunteering? Call: 801-581-2429