Author: Melinda Rogers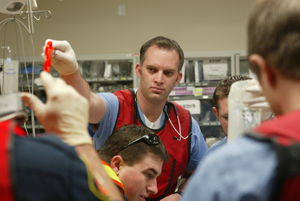 A typical day for nurse Georgia Black in rural Blanding, Utah may look something like this: deliver a baby, take care of a trauma, scrub into the OR, attend to a patient with heart failure and patch up the arm of a child who broke his arm.
Black and other nurses in Utah's rural areas have become masters of juggling a variety of medical cases that come through the doors of rural hospitals and clinics.
"We do it all," said Black simply, summing up her daily work life.
The need to continue expanding knowledge to treat a wide array of cases brought Black and other nurses from rural areas to University Hospital this month, where the group is part of the inaugural Rural Health Training program.
The initiative aims to bring rural nurses to the hospital where they can receive hands-on training in cases that aren't as common in their day-to-day nursing practices. Nurses so far have spent time observing high-risk OB cases in the hospital, gaining experience to bring back to their own hospitals and clinics. They will study surgery, trauma and ER cases in the coming year.
This week the group is mastering PICC lines (a peripherally inserted central catheter). Nurses will practice inserting a long, slender, flexible tube into a peripheral vein. The line is advanced through increasingly larger veins, toward the heart, and is often used for things like chemotherapy or antibiotic therapy.
At the Rural Health Training program, visiting nurses receive training that is a combination of time in the classroom and simulated team training, before they will also start treating real patients to practice procedures.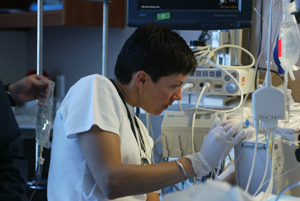 Black said the trip to Salt Lake City to brush up on PICC lines is a great opportunity, as training in southern Utah on PICC lines isn't as widely available as in a more populated area.
Nurse Laura Johnson of Gunnison, who is part of the Rural Health Training program with her colleague Barbara Hyett, said visiting University Hospital gives nurses a closer look at nursing practices that are more specialized.
"They can tell us the little secrets and the tricks (to certain procedures)," said Johnson, of collaborating with nurses at University Hospital.
While rural nurses spend time picking the brains of their counterparts at University Hospital, the teaching isn't a one-way street. Rural nurses are also training their peers at University Hospital, said Margaret Pearce, chief nursing officer at the hospital.
"We both have very good skill sets –very different skill sets –and we can learn from each other," said Pearce. "It's an opportunity for all of us to share our expertise." Pearce said nurses from University Hospital in coming months plan to visit their rural counterparts at clinics and hospitals in places like Blanding and Gunnison, so University Hospital nurses can learn how nurses in rural areas multi-task on different cases.
University Hospital nurses scheduled to visit Gunnison also will learn about the rural hospital's "bedside report" initiative. For more than a year, nurses in Gunnison have tried the tactic – in which nurses who are changing shifts hold a meeting in a patient's room to discuss care in front of the patient and his/her family. The conferences allow patients and their family members to ask the nurses questions about care or clarify any confusion they may have about treatment plans. Patients in Gunnison have reported positive perceptions about nurse communication, which is why other hospitals may want to emulate the model in their own health care settings.
The Rural Health Training program is an extension of outreach programs that started at University Hospital several years ago. Educators in the past have traveled to rural areas to provide training on cardiac life support, fetal monitoring, and other health conditions.
But it's helpful to bring nurses from rural areas to University Hospital, Pearce said, because they can see live cases in the emergency room that they might not see every day in their own clinical settings.
While the initiative has started with a few handfuls of nurses traveling to University Hospital, interest has expanded —with nurses from Wyoming, Idaho and other parts of the Intermountain West expressing interest in an information and skills exchange.
"If we can help other health care organizations take care of their patients, we want to do that," Pearce said. "And if other health organizations can offer us tips for improving our own patient care, we would love to learn from them as well."