Author: Peta Owens-Liston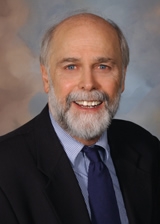 John C Carey, MD, MPH, faculty member from the University of Utah's (U of U) Division of Medical Genetics, Department of Pediatrics, recently received the annual David W. Smith Award for Excellence in Genetics and Birth Defects Education from the American Academy of Pediatrics. This teaching award recognizes and honors individuals with a long and distinguished history of mentorship and teaching in the field of dysmorphology (birth defects) and genetics.
"I've observed Dr. Carey teaching, and he is outstanding—warm, kind, erudite, but always focused on the patient. Every student or resident I have known or spoken with praises him as a role model and superb teacher," says Leah W. Burke, MD, chair of the Section on Genetics and Birth Defects of the American Academy of Pediatrics, who helped nominate him. "He embodies the values, the warmth, and commitment to teaching exemplified by Dr Smith."
While receiving the award at the annual American College of Medical Genetics Meeting, Carey expressed the significance for him in receiving this award specifically from the American Academy of Pediatrics. "I'm a pediatrician first and foremost—this is my passion and close to my heart. Then I am a specialist in medical genetics."
The award is named after David W. Smith, a pioneer of this field, who was also one of Carey's teachers and who often took Carey "under his wing" at medical meetings. "I have a lot of admiration for him and am humbled by this honor," adds Carey, who was also taught by two earlier recipients of the award, both pediatricians as well. (The award is new; this is its third year.)
Nationally recognized and with numerous teaching awards, Dr. Carey is gracious and "awed" to have received such an award. Currently, he is Professor and Vice Chair of Academic Affairs, Department of Pediatrics, at the University of Utah and the Editor-in-Chief of the American Journal of Medical Genetics. While he served as Chief of the Division of Medical Genetics (1985 -1999), he established the Medical Genetics Fellowship Program at the University and continues as its Program Director.
His research focuses on congenital malformations, neurofibromatosis and syndrome delineation; he has written about these topics in numerous papers, chapters, and articles. His expertise can also be found in the textbook, "Medical Genetics," which he co-authored with Lynn Jorde, PhD, Chair of the Department of Human Genetics at the U of U's School of Medicine. The textbook is widely used in medical schools throughout North America and Europe. He has served as medical adviser and "founding professional" for the Support Organization for Trisomy 18, 13 and Related Disorders (SOFT) since 1980.Presently, the medical and ethical aspects of care of infants and children with these conditions are some of his major academic interests.
Carey has cared for children with birth defects and their families since the 1970s, when he was an intern and resident in pediatrics. As a young doctor he grew close to families whose children had physical disabilities or syndromes. "Before long, my clinic was filled with patients who had spina bifida, Down syndrome, and cleft palates," recalls Carey, who felt genetics was the best "entry point" into this field. This specialty ties into the initial diagnostic and counseling processes and allows for long-term guidance in managing children with these conditions. It was a teacher and last year's recipient of the award (Bryan Hall, MD, FAAP) that inspired Carey to pursue this specialty.
"Pursuing this career path is beyond 'worth it'," says Carey. "Building relationships with families, learning from them about their children and their challenges, witnessing their coping, their joys and their hardships has been an incredible privilege and journey for me as a physician and a person."