Author: Melinda Rogers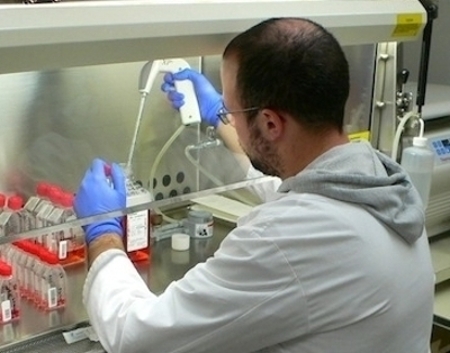 For parents whose infants have been diagnosed with spinal muscular atrophy, comprehending what the rare condition means for their child's life can be devastating. SMA is a progressive, debilitating and potentially fatal disease of the motor neurons caused by the absence of the survival motor neuron gene, or SMN1. It's a condition that occurs in one in every 6,000 live births.
But researchers at the University of Utah Center for Clinical and Translational Science are giving parents dealing with the heartbreak of seeing a child diagnosed with the condition something that's much needed: Hope for a cure. Researchers have made strides in understanding SMA, everyday coming steps closer to finding an effective treatment for the genetic condition. Their work is only one example of potentially life-changing research taking place daily at the Center.
The Center taps into the University of Utah's strengths in genetics and bioinformatics to translate promising bench science into practices that improve health. It serves as an academic home for clinical and translational research, developing innovative health services for the community and health researchers, and training a new generation of clinical and translational investigators.
The Center's track record of success this month has earned it a $20.4 million grant from the National Institutes of Health that will allow it to provide support for all aspects of translational research over the next five years. The University of Utah is just one of 15 institutions in the U.S. selected this month to receive an NIH Clinical and Translational Science Award or CTSA.
"This award is important to continue our work in translational science. This funding will help scientists and physicians train those who may be responsible for tomorrow's medical breakthroughs," said Vivian S. Lee, M.D., Ph.D., MBA and University of Utah senior vice president for health sciences.
"We've already made a number of important research discoveries in our Center for Clinical and Translational Science, and the NIH's continued support of our facility shows their confidence in our commitment to keep making strides in several research areas," said Lee, also dean of the School of Medicine and CEO of University of Utah Health Care.
Donald McClain, MD, PhD, and Carrie Byington, MD, —the Center's directors —said the new NIH funding will help the University of Utah to continue to be an important voice in the broader discussion of improving the quality of health care while reducing costs.
"The importance of this Center to the State of Utah is that it brings resources together that support the full range of clinical research, from basic discovery science to how research findings are best implemented into the practices of our community physicians. The Center facilitates the communication among all of our stakeholders, so that investigators making basic discoveries can speak with experts in turning those discoveries into new cures or diagnostics, and they in turn can speak to experts in partnering with industry to get the products to market," said McClain, who besides overseeing the Center, serves as Associate Vice President for Clinical and Translational Science, the Bettilyon Chair in Diabetes Research and a Professor of Internal Medicine and Biochemistry at the University of Utah.
"In this partnership among Intermountain Healthcare, the Veterans Administration, the Utah Department of Health, and the University of Utah, we can ensure that advances made across the entire nation are brought to the entire population of Utah rapidly and safely," he added.
Byington noted one of the research initiatives linked to the Center is a planning grant to develop a National Research Mentoring Network for those under-represented in medicine. The mentoring network represents a novel approach to increase the national capacity for biomedical science through the recruitment and training of the best and brightest candidates from all backgrounds. Byington serves as principal investigator of the planning award given to support the development of the network through the entire CTSA consortium of 60 sites.
"Participation in the CTSA consortium allows Utah to address some of the most important issues in biomedical science and to collaborate with some of the best academic health centers in the U.S.," said Byington, the H.A. and Edna Benning Presidential Professor of Pediatrics, Vice Dean for Academic Affairs and Faculty Development and Vice Chair for the Research Enterprise, Department of Pediatrics at the University of Utah.
The NIH started the CTSA program in 2006 as a tool in the health care reform movement to provide higher quality and more affordable health care to people. The University of Utah receiving its first round of CTSA funding in 2008, when it joined other institutions across the country in trying to find research breakthroughs that could change outcomes in patient care more rapidly move breakthroughs in basic research to breakthroughs in patient care.
The University of Utah Center for Clinical and Translational Science consists of eight core areas including biomedical informatics; clinical services; community outreach and collaboration; patient-centered outcomes research methods; recruitment, retention and safety; research education, training and career development; study design and biostatistics and translational technologies and resources.
Besides researching conditions like SMA, the Center for Clinical and Translational Science has worked on literally hundreds of protocols, including studies related to obesity and cancer, said McClain.
By 2018, the Center has a number of goals it wants to meet, including:
Increasing the quality, quantity, safety, efficiency and impact of translational research for all conditions.
Providing resources and services to support and speed clinical and translational research of all kinds.
Training, mentoring and supporting the next generation of translational investigators to become principal investigators and productive faculty members.
Creating a leadership structure that represents all aspects of translational science.
Engaging in a process of continuous evaluation, improvement and innovation in all of these areas.
Proving special expertise to a CTSA consortium in the areas of human genetics, genotype/phenotype correlation, health services research including comparative effectiveness, medical device innovation, and the development of electronic health records as tools for medical care and research.
To learn more about the NIH CTSA program, visit: https://www.ctsacentral.org.