While many of us wonder about outer space, the stars overhead, we seldom think of inner space and the "characters" that inhabit it. It is a case of out-of-sight, out-of-mind. Janet Iwasa, PhD, a cell biologist turned molecular animator, is changing all that by creating detailed animations of cell processes deep within our bodies. A new addition to the University of Utah from Harvard, she is one of a handful of academic animators in the country, trailblazing a completely new field known as molecular animation.
"Animation allows us to capture a ton of experimental data in a single short movie," explains Iwasa, whose words race to keep up with her enthusiasm for such innovation. "Not only does animation allow us to envision how many proteins work together, but it also forces scientists to focus not just on one step or another but to consider the in-between states of molecular processes as well."
Many of the "characters" for these animations come from the Protein Data Bank, a public database containing the atomic three-dimensional coordinates for over 88,000 molecules. She then animates them through Autodesk Maya, a commercially available animation software.
"Maya is not biology specific and it has a steep learning curve," says Iwasa, who was awarded a National Science Foundation (NSF) fellowship that allowed her to acquire and hone her animation skills. She spent three months in Hollywood learning animation techniques, side by side with colleagues who were focused on phantasmal creatures and scenes while she focused on bringing cellular structures to life.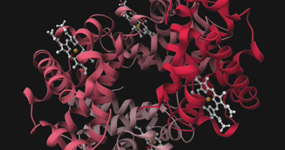 Currently, she is working on a NSF-funded project called Molecular Flipbook with colleagues at Harvard Medical School in order to develop animation software specific to scientists that is more intuitive and easier to learn.
Iwasa is quick to counter critics who see only Pixar-style "eye candy" in these beautiful visual displays. Both a research and communication tool, Iwasa points out that these animations allow researchers to not just see a model of an individual protein in three-dimensions, but an entire contextualized cellular process, with data pulled from a variety of fields. "Animation can encompass all of the scientists' research and historically what is known; it allows scientists to envision a hypothesis and come up with new ideas based on what they are seeing."
Animating the HIV virus is Iwasa's next large-scale project; she wants to create detailed molecular animations of HIV entry and egress. "There is not a lot of animation that accurately captures the molecular details known about the lifecycle of HIV," says Iwasa She is collaborating with researchers in the CHEETAH consortium, a group of AIDS researchers here and at institutions across the country who are focused on understanding structural aspects of HIV trafficking and assembly.
"We believe that these visualizations will serve as powerful thinking models for the HIV research community," adds Iwasa. While much has been discovered about AIDS in the last 30 years, Iwasa points out that there are still many fundamental aspects of the molecular mechanism of HIV infection that remain unknown.
While these molecular scenes may lack the entertainment appeal of say Shrek or the Avengers, they appeal to scientists and non-scientists alike as works of art. The startling and surreal beauty of these molecules—some of them Iwasa's work— have been displayed in museums and galleries, including the Moscone Center in San Francisco. "These art exhibits can be an unintimidating way to get people to see, think, and talk about molecules in a public setting" says Iwasa, whose first animation project on the origins of earth was displayed at the Museum of Science in Boston. "I think animation has the potential to really change the way that all of us – scientists and non-scientists alike – think about biology."
To learn more about Janet Iwasa and see her work visit: http://biochem.web.utah.edu/iwasa/index.html