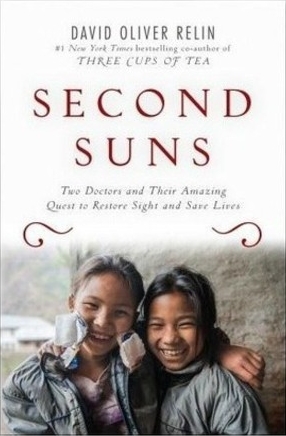 It's a big week for two ophthalmologists at the University of Utah's Moran Eye Center: Dr. Geoff Tabin and Dr. Alan Crandall are celebrating the release of Second Suns, a new book that chronicles their work to end preventable blindness in Nepal.
Second Suns showcases the work of Tabin and his Nepalese mentor Dr. Sanduk Ruit, who work together to treat patients in one of the world's most impoverished areas. The book is written by David Oliver Relin, who many may remember as the author of Three Cups of Tea.
The new book has generated news coverage across the country, including mentions in:
Second Suns will also be featured this weekend at the Moran Eye Center's annual "Night For Sight" fundraiser, which takes place Saturday at the Grand America Hotel in Salt Lake City. The annual gala raises money for the Moran Eye Center's charitable outreach programs.
Interested in attending? Tickets are $150 per person or $1,500 for a table of 10. For more information about tickets, sponsorship, or auction donations, contact the Moran Eye Center Development Office at 801-585-9700 or email heidi.reid@hsc.utah.edu.
Want to learn more about the work of Dr. Tabin and Dr. Crandall after you finish reading your copy of Second Suns? They are also featured in a new documentary called Duk County, which premiered at a film festival this summer in Telluride, Colo. Learn more about the documentary and the doctors's experiences in South Sudan in the National Geographic Adventure Blog and in the documentary's trailer here.