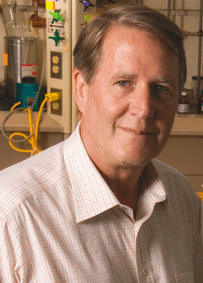 Growing up in San Diego, Chris Ireland went to the beach nearly every day and knew from a young age that he would be an oceanographer. The powerful waves, vast array of marine life, and the unparalleled experience of scuba diving drew him to the Pacific at his doorstep and, eventually, far across the world.
"I consider the ocean my home environment," says Ireland, who became dean of the College of Pharmacy in 2010. "I like the feeling of being neutrally buoyant and floating when diving—just being a spectator in an unbelievable environment. It helps one appreciate how beautiful and powerful nature is."
After graduating in chemistry from the University of California, San Diego, he didn't travel far to earn his doctorate in oceanography—the world renowned Scripps Institution of Oceanography, located just north of San Diego in the town of La Jolla, Calif. Ireland had anticipated a career studying how marine organisms use chemicals to communicate, but when he started looking for faculty positions, jobs in oceanography were scarce and research funding was drying up. Undeterred when life's tides drew him in a different direction than he'd planned for, Ireland swam with the flow and soon embarked on a career that joined his love of the ocean with the emerging field of looking for anticancer compounds in marine organisms.
He landed a position setting up a program to develop drugs from the sea at the University of Connecticut and also received his first NIH grant to investigate sea life for potential cancer drugs. Two years later, in 1983, he moved to the U College of Pharmacy and Department of Medicinal Chemistry.
"I came here because the University of Utah was a leading pharmacy research school and because the U was establishing a National Cancer Institute-recognized cancer center," he says. (This predated the U of U's Huntsman Cancer Institute, established by Jon and Karen Huntsman, which opened in 1999.)
Arriving in Utah, Ireland quickly saw the potential for collaborating with researchers in various fields at the University Health Sciences, a model he has followed his entire career and that helped set him on a fruitful research path. Ireland transferred his NIH funding with him from Connecticut, and since then the grant has been renewed continuously, placing him in the top 5 percentile for NIH funding worldwide.
Identifying and harvesting compounds from marine animals is a complex process, and one that has taken Ireland to the rich seas of the western Pacific Ocean near Papua New Guinea, Fiji, the Philippines, Australia, and Indonesia. There, he has searched for sponges that secrete chemicals to defend against other sea life that might try to overgrow it on a reef. The secretions usually don't kill a threatening organism but do prohibit it from growing too big and crowding out the sponge from the reef. These self-defense secretions use many of the same biochemical pathways as tumors, making them tantalizing targets for developing cancer drugs. 
Turning a compound into a marketable drug can take 20 years or longer and cost up to $1.5 billion. Realistically, a researcher is lucky if even one compound he or she discovers is ever tested in people, let alone turned into a marketable drug. In partnership with Wyeth Pharmaceuticals, Ireland's team has brought one compound isolated from a sponge to phase II clinical trials in people. This means the drugs passed initial testing to ensure they were safe for people to take, and then made it to second-phase testing in a larger group to see how well they worked in people. Ireland believes enough researchers have been searching for drug compounds the past 20 years that a number of marine-based cancer drugs will begin emerging.
"In the past several years, the first three drugs developed from marine organisms have been approved," he says, "and there are dozens of cancer drugs in the pipeline."
Ireland's lab also has discovered hundreds of compounds from sponges and other marine life that provide new ways to study cancer.
In recent years, he has trained his eye on developing drugs from plants that the people of Papua New Guinea use in traditional medicine. He wants to find compounds to fight three major diseases in that country: HIV, tuberculosis, and malaria. Developing drugs from native plants would be relatively inexpensive and therefore make them more easily accessible to more people, Ireland believes.
Ireland's commitment to helping people across the globe exemplifies L.S. Skaggs' vision of a world-class pharmacy college when he donated money to construct a state-of-the-art building in 1965. Named L.S. Skaggs Hall, in honor of Mr. Skaggs' father, the new facility attracted top-notch faculty, and by 1975  the College was ranked as the No. 1 research-intensive pharmacy program in total NIH funding—and it has remained in the top four in the nation every year since then. At the same time, the College, which trains most of Utah's pharmacists, built a national reputation for its academic program, and this year it broke into the top 10 in U.S. News & World Report's annual ranking of the nation's best pharmacy schools.
Now, thanks to another generous donation from the Skaggs family and the ALSAM Foundation, a new research building will open in early 2013. That building connects with L.S. Skaggs Hall and together they will be known as the L.S. Skaggs Pharmacy Institute, in honor of L.S. "Sam" Skaggs. With completion of the new building, the College will be positioned for even greater achievements, Ireland believes. "We'll be able to recruit even more world-class faculty," he says.
As a professor, former chair of medicinal chemistry, and, now, dean, Ireland grew up professionally at the College of Pharmacy. Although his current responsibilities have cut into his research, he still makes time to dive, as he did last November near Papua New Guinea. From his view, there's no better spot in the world of academic pharmacy than his at the University.
"I'm honored to sit here."