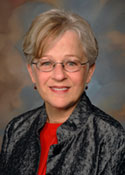 It was a well-matched courtship, intellectually. In 2005, the deeply-rooted and worldwide reputation of the Department of Biomedical Informatics (DBI) helped the University of Utah woo Joyce Mitchell PhD, FACMI, FACMG, from her thriving 25-year career at the University of Missouri School of Medicine to Utah.
Since then she has added to the DBI's prestige while chairing the department and as acting Associate Vice President for Health Sciences Information Technology. After receiving an appointment in 2009 to the National Library of Medicine (NLM) Board of Regents—the world's largest repository and distributor of medical information— it distinguished not just Mitchell, but the University as well.
"National appointments such as this are given with great consideration," commented then senior vice president for health sciences Lorris Betz, MD, PhD. "Dr. Mitchell's appointment speaks highly not only of her reputation but also of our Department of Biomedical Informatics, which is undisputedly one of the finest anywhere."
For almost eight years, the U will have benefitted from Mitchell's leadership as one of the country's leading experts and scholars in biomedical informatics—the science of using computers to gather, manage, and analyze biomedical and patient information to improve individualized patient health care.
"It has been an honor working here," says Mitchell, who will retire at the end of this year and pass the leadership torch on to someone else.
Why Now? "It's a good time to transition. I've wrapped up three major national grants that are now at a good phase to hand off to someone else—to someone who has the energy to boost everything up to the next stage. I want to step out while the department is thriving as that is the best time to attract others to the department and it is a good note for me to leave on. Plus, I want to spend time doing other things."
That's a lot of time? "This has been a wonderful place to work for the last eight years, but it has required all of my energy and time including nights and weekends. I want the freedom to do some more traveling with my husband, including exploring the West more and all those national parks. We'll kick off my retirement with a Caribbean Cruise. It is whatever comes next; I don't have too many preconceived notions."
Will your brain be bored? "I have enough things to do in case I start getting bored. I'll continue some professional activities, including some consulting and chairing on the National Library of Medicine Board of Regents and on the NIH Council of Councils advisory committee. I'll continue directing my summer course at the Marine Biological Laboratory in Woods Hole, MA. I still have some grants I'm overseeing and will be subcontracting through the University."
What happened when you announced your retirement? "People started calling, urging me to apply for a job where they work. I said, 'Now why would I retire just to start another job somewhere else?'"
Why the U initially? "It was a spectacular opportunity to set up informatics infrastructures here and to work with this department, which has such a strong history as the longest established BMI department and respected worldwide. It is the training spot for people throughout state who do good things.
I saw the collaboration here between faculty members and with the state Department of Health, Intermountain Healthcare, and the VA Hospital, which has the largest electronic medical record system in the world.  This kind of collaboration is very unusual and allows you to think much more broadly than a single institute.
The concentration of genetic expertise was very attractive to me and the opportunity to bring informatics and genetics expertise together—that's a role I could play with my background as a board certified geneticist."
What's been a passion? "I'm really proud of the FURTHeR Project [The Federated Utah Research and Translational Health e-Repository] that was started on my watch and launched last year as part of the NIH, CTSA grant [Center for Translational Science Activities].
It allows us to search across multiple data sets to put data in the hands of researchers and doctors to improve patient care. We can do searches of HIPAA-compliant information using clinical data, allowing for research on very specific populations. For example, we can find women over the age of 40 who have had breast cancer, that live in Davis County, who have a bio-specimen already on file in a pathology database, and who have a family history of breast cancer."
Did you reach your full potential?  "My career was not one that was ever mapped out. I just took the opportunities that came along that involved intellectual fun and great people who could do miraculous stuff, way beyond what I could come up with. I feel lucky to have had a leadership role in such an evolving and important field—a field many still don't know about even today."
Advice for the next chair? "Have fun with it. I have done a substantial job of beefing up and remolding the department so it is capable of all the wonderful things that biomedical informatics as a profession can do. With this position, you get to work with top-notch faculty and phenomenal students. Plus there are so many opportunities to work with researchers involved in health care. 
This is one of the most respected places for medical informatics in the world. The tradition, collaboration, and depth here are phenomenal thanks to Homer Warner and his team, who developed the first concept and system of electronic medical records here some 50 years ago.
That is why I came here. It's just a top notch place."