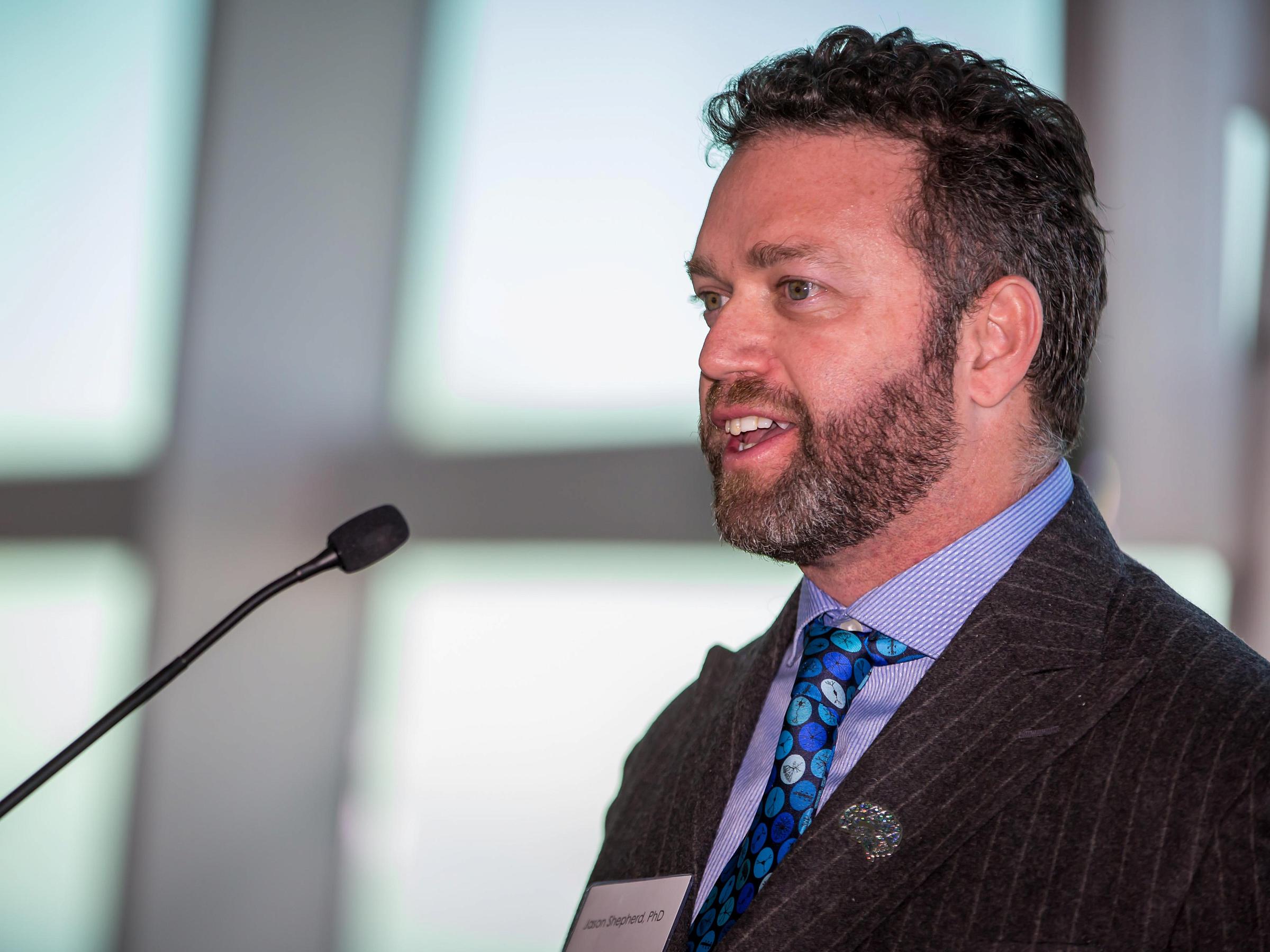 Jason Shepherd, Ph.D., a neuroscientist at University of Utah Health, has received a Scientific Innovations Award from Brain Research Foundation (BRF). The two-year, $150,000 award will help support his efforts to disentangle how proteins produced by certain cancers can provoke the immune system to invade the brain and trigger the onset of neurological disorders.  
Shepherd, an associate professor in the Department of Neurobiology at the Spencer Fox Eccles School of Medicine, was just one of three neuroscientists selected to receive the award from among 60 applicants nationwide. The award is designed to help neuroscience investigators sustain innovative research projects that have the potential to yield significant breakthroughs.
"Being recognized as a scientific innovator by Brain Research Foundation is a tremendous honor," Shepherd says. "It's definitely rewarding to know that our research is viewed as being on the cutting edge of neuroscience."
In preliminary research, Shepherd and graduate student Junjie Xu discovered that members of a family of genes in the brain called paraneoplastic Ma antigens (PNMA) create virus-like protein shells, called capsids. The exact role of PNMA proteins in the brain is still murky, but the BRF Scientific Innovations Award should help sort this out, Shepherd says.
Researchers know that lung, testicular, and certain other cancers outside the brain abnormally produce PNMA capsids. Shepherd and colleagues hypothesize that PNMA proteins produced in these tumors induce the immune system to attack these capsids just as vigorously as it would any other foreign substance, such as a viral infection. This protective net overreacts, which causes the immune system to mistakenly assault the brain itself, resulting in a neurological disorder that has symptoms similar to NMDA encephalitis.
NMDA encephalitis is a rare brain disorder, which became well-known through the best-selling book Brain on Fire, by Susannah Cahalan. It can cause confusion, memory loss, seizures, and symptoms like bipolar disorder and other psychiatric conditions.
Moving forward, Shepherd hopes to replicate the cancer-induced neurological disorder itself in his laboratory by expressing PNMA in tumors implanted in mice. The researchers will then look for any antibody production and neurological deficits that occur.
"Knowing more about how PNMA antibodies are generated and how they actually get into the brain could potentially lead to the development of therapeutics to arrest the onset or progression of autoimmune diseases that affect the brain," Shepherd says. "We have an opportunity to make real progress toward treating the neurological symptoms of these conditions."
                                                ###
Brain Research Foundation is the nation's oldest organization dedicated to brain research. Since 1953, BRF has endeavored to make a dramatic difference in the lives of children, adolescents, and adults devastated by neurological disorders. BRF Scientific Innovations Awards (SIAs) are designed to support established basic or clinical neuroscience researchers taking a chance on an innovative project that could yield big gains. The projects may be viewed as too risky by some traditional funders but have a high potential to yield important insights in a short period of time.
University of Utah Health provides leading-edge and compassionate care for a referral area that encompasses Idaho, Wyoming, Montana, and much of Nevada. A hub for health sciences research and education in the region, U of U Health has a $458 million research enterprise and trains the majority of Utah's physicians and health care providers at its Colleges of Health, Nursing, and Pharmacy and Schools of Dentistry and Medicine. With more than 20,000 employees, the system includes 12 community clinics and five hospitals. U of U Health is recognized nationally as a transformative health care system and provider of world-class care.