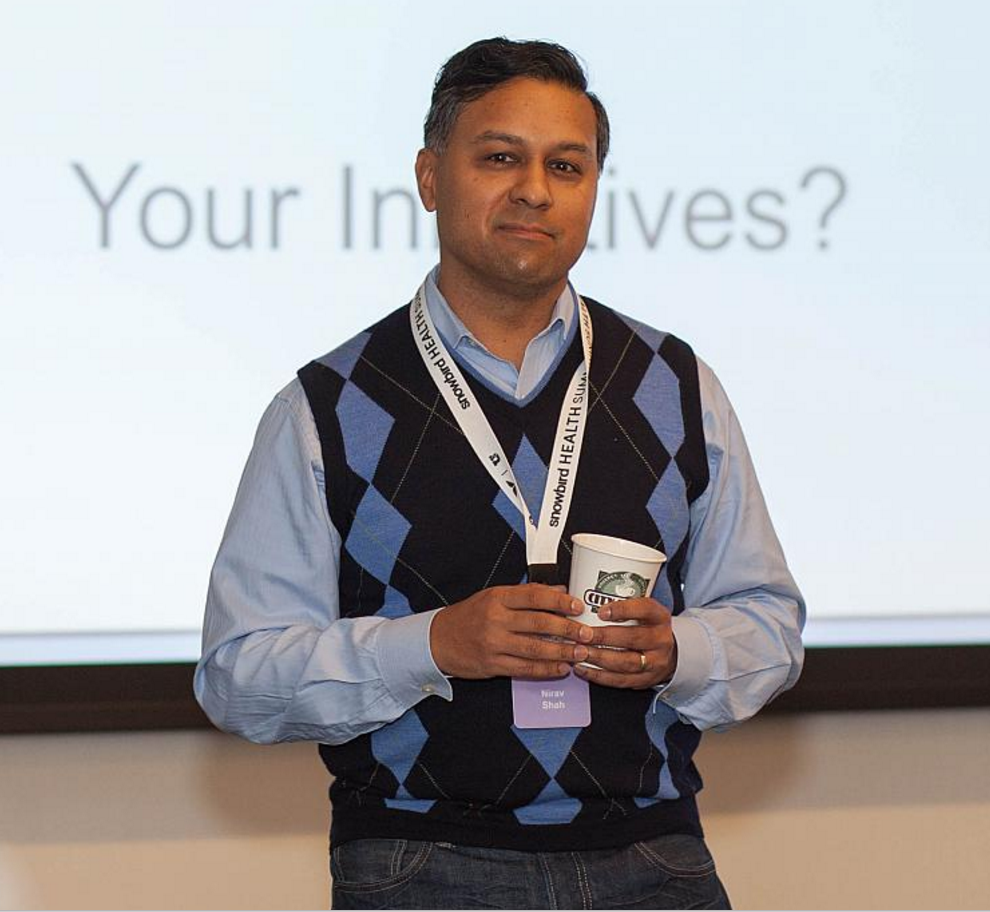 Battling two rare diseases, Jess Jacobs knew she'd spent a lot of time trying to access health care. Waiting rooms, doctor's appointments, ER visits and hospital stays: tick-tock, tick-tock. But how much of her time was usefully spent and how much was wasted? Jess, a former innovation director at Aetna, wanted to know.
For one year, she tracked her "odyssey of medical maladies," which required 56 outpatient visits, 20 trips to the ER and 54 nights in a hospital bed. Her conclusion?
Just 0.08 percent of all those hours and minutes were spent actually treating her conditions. The other 99.92 percent of her time, Jess determined, was wasted.
"For her, time saved equates to quality — speed is quality," said Nirav R. Shah, MD, MPH, senior vice president of Kaiser Permanente's Southern California region, who opened a recent speech to University of Utah Health leaders by telling Jess's story. "In health care, we deliver very little quality when you define it by a metric that matters to our patients: their time."
Tragically, Jess's time ran out in 2016 when she died at 29.
"Maybe health systems should be rated on how much time they give back to their patients," said Shah, who is using a number of inventive approaches at Kaiser Permanente to return this precious resource to patients.
Take, for example, his hospital system's zero-day stays for hip-replacement surgery compared to the typical 1–5-day stays common in U.S. hospitals. Pulling off such a quick turnaround requires the type of teamwork that takes place inside an internal combustion system, Shah said. But instead of crankshafts and pistons working in concert, it's doctors, pharmacists, nurses and physical therapists.
Zero-day stays require anesthesiologists to use a more difficult technique that allows patients to walk immediately after surgery, but the preparation actually begins during the weeks leading up to surgery when members of the health care team visit the patient's home.
There's the nurse who installs grab bars in the shower and checks for slippery-looking rugs; there's the pharmacist who explains the medications and how to give a subcutaneous injection; and there's the durable medical equipment (DME) people who bring the right-sized walkers and canes and demonstrate how to use them.
On surgery day, coordination ramps up.
"Who's waiting for them when they get home from surgery? Physical therapy. Not five minutes late — they have to be there when the patient arrives. The first PT appointment is that night at home," Shah said.
Day 2 brings more coordinated care all in the comfort of the patient's home. Under this program, Shah said 50 percent of his patients at Kaiser hospitals go home without a single night's hospital stay. Kaiser Permanente — an integrated health system that is also the insurer — saves thousands.
"What is the hospital infection rate for a zero-day stay?" Shah asked the packed room of physicians and leaders, eliciting chuckles. "What are the visiting hours like at home? Pretty good! What's the quality of food at home? Hopefully pretty good! Patient-satisfaction rates [are] through the roof."
Another time- and money-saving, people-pleasing Kaiser Permanente program aims to give patients with failing kidneys an optimal start to treatment rather than a catastrophic start, which Shah says is the standard approach. Even though we can use testing and data to predict when an individual's kidneys will fail — doctors, patients and health care systems typically wait until the patient is sick in the ER with a giant catheter in her neck before intervening, Shah said.
"There's got to be a better way," he said, noting that if data analytics determine that a patient's kidneys will fail in autumn of 2017, an intervention should begin six months earlier.
"At that mark, let's bring you in and talk to you about your options," Shah said. "Maybe you want to get a kidney from a relative or someone else and prevent ever getting dialysis. Maybe you know you're going into dialysis and you want to get an AV fistula placed, a surgical procedure so they don't have to throw a catheter in your neck. Maybe you want to learn about something we call peritoneal dialysis, which you can do at home and not waste your life away."
Not only do patients fair much better and retain more of their time, each optimal start to kidney-failure treatment saves Kaiser Permanente $48,000 per patient in the first six months alone.
Every team member needs to work together, but with standardization, transforming health care is possible if you're willing to "completely redefine what counts as health care." For Shah, that starts with respecting patients' time and working to ensure that people like Jess spend as little as possible of it reading magazines in waiting rooms and wearing gowns in uncomfortable beds.
Natalie Dicou is a Communications Specialist for University of Utah Health.