December 9, 2023
5-8 pm
You are warmly invited to our SACNAS Holiday Potluck and Ugly Sweater/White Elephant Gift Exchange Party! Please RSVP with your potluck share item and for the event address. Our hosts will be providing the main dishes, so please feel welcome to come even if you are unable to bring something to share.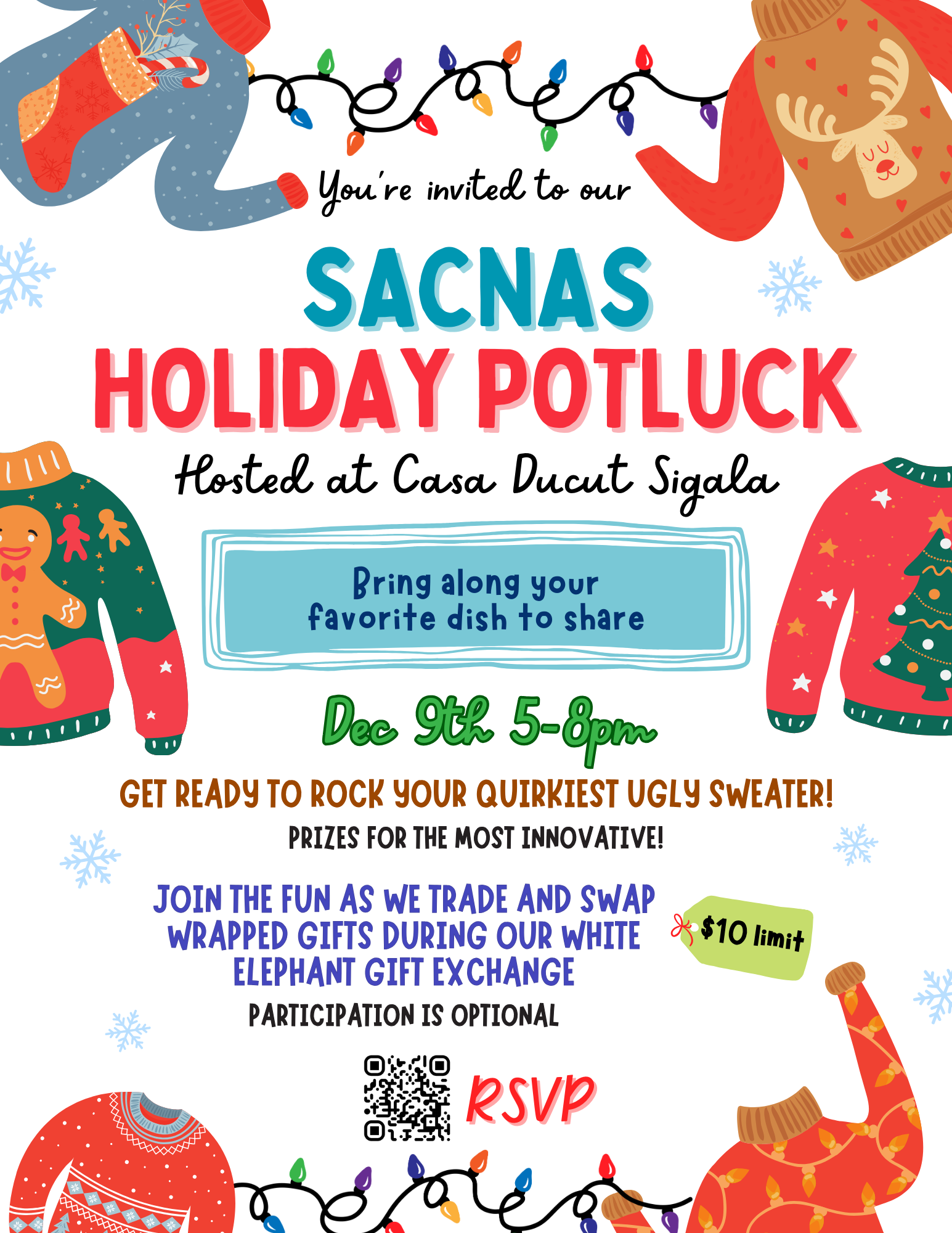 December 18, 2023
3-5 pm
HSEB 2908
The U of U SACNAS chapter invites YOU to our Food Bank Movie Night Drive on December 18th, from 3-5pm in HSEB 2908. We ask that our attendees bring at least 1 non-perishable item that will be donated to the University food bank as the cost of admission (donations will be taken to the food bank after the event). Take a break from work and watch the movie

Cool Runnings
with us while enjoying cold refreshments and popcorn that will be provided!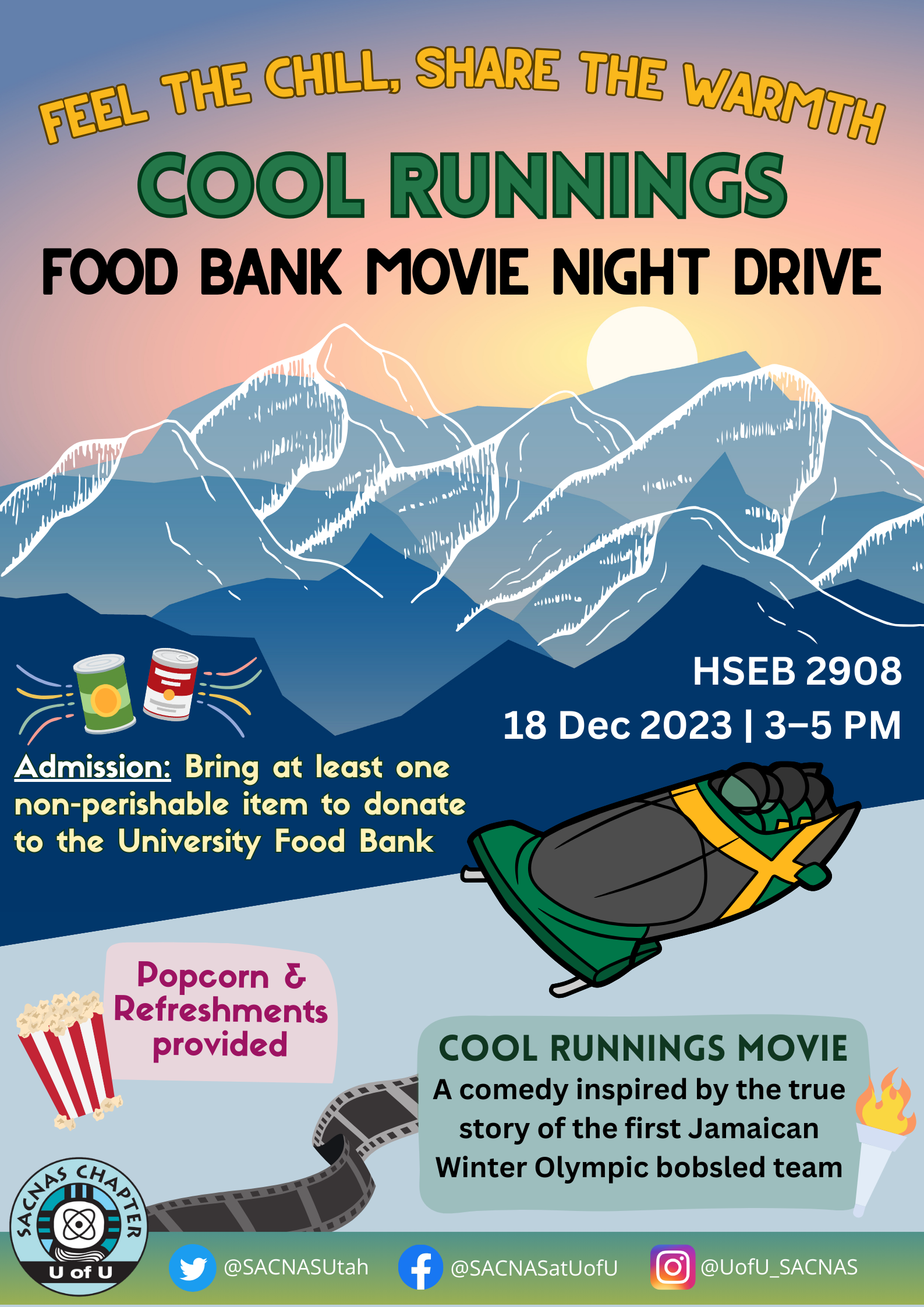 November 17, 2023
5-7 pm
It's time to mark your calendars and get ready for an exciting evening of music, dance, and community bonding! "Horchata Bachata" promises to be an unforgettable night filled with Latin rhythms, dance lessons, and delicious horchata to energize you on the dance floor!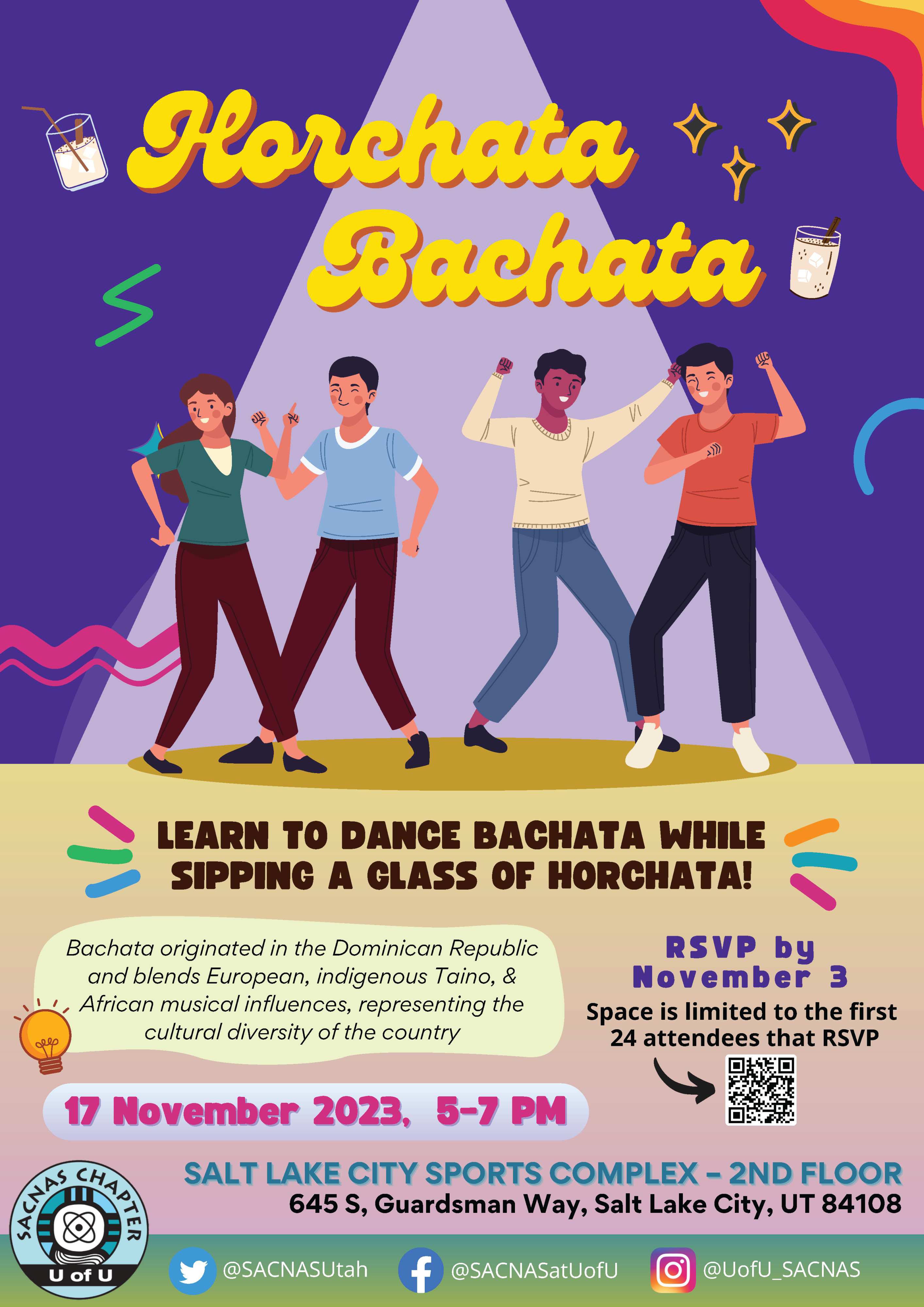 November 20, 2023
5-7 pm
HSEB Alumni Hall
The U of U
SACNAS
Chapter would like to extend you an invitation to the 2023
SACNAS
Multicultural Potluck. Everyone is welcome to join us and enjoy a warm meal!
Plus, it is FREE!
Bring your favorite dish, and let us know where your dish is from!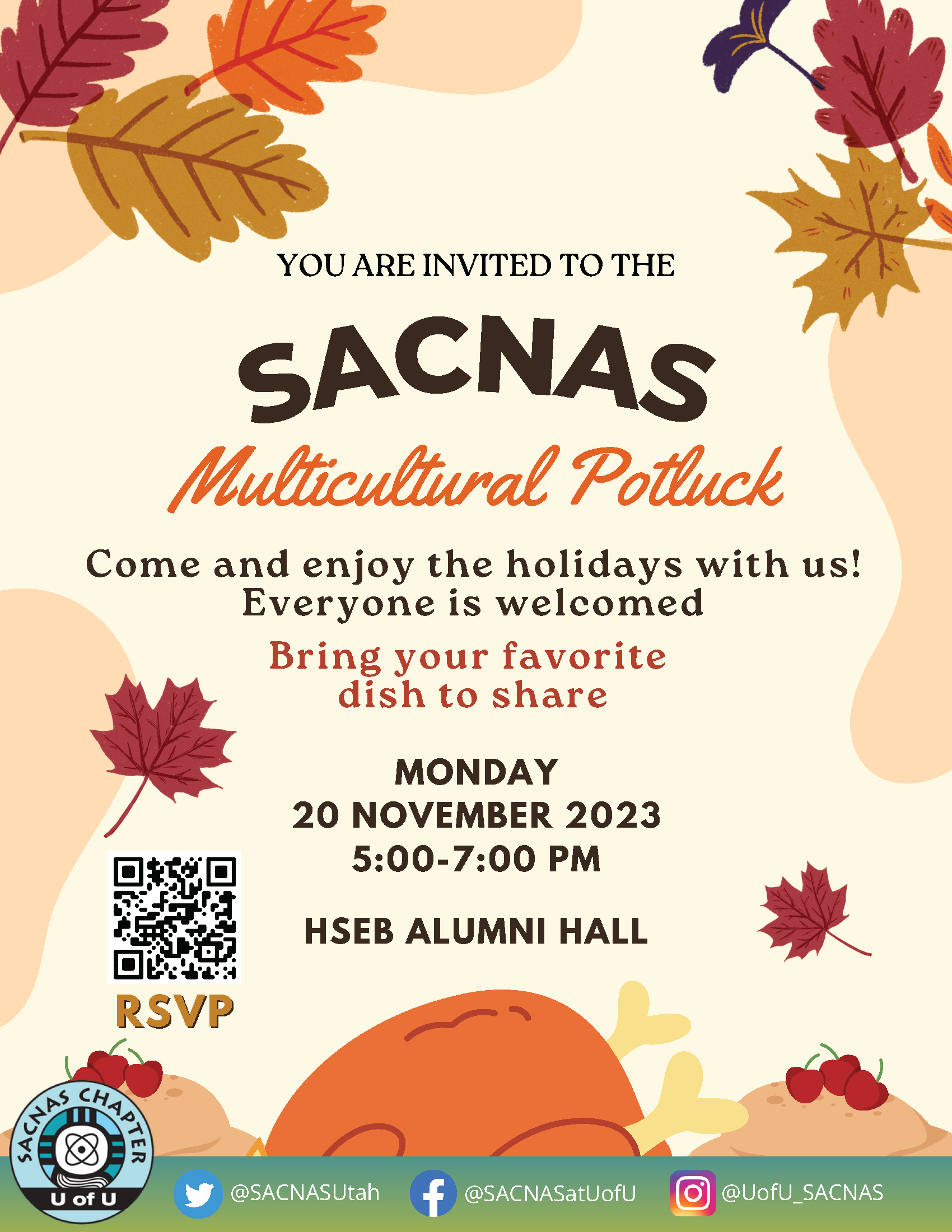 NSF GRFP Peer Workshop Series
October 6, 2023
12-1 pm
HSEB 3430
Join us for questions and additional insight to apply for the National Science Foundation Graduate Research Fellowship. No RSVP required.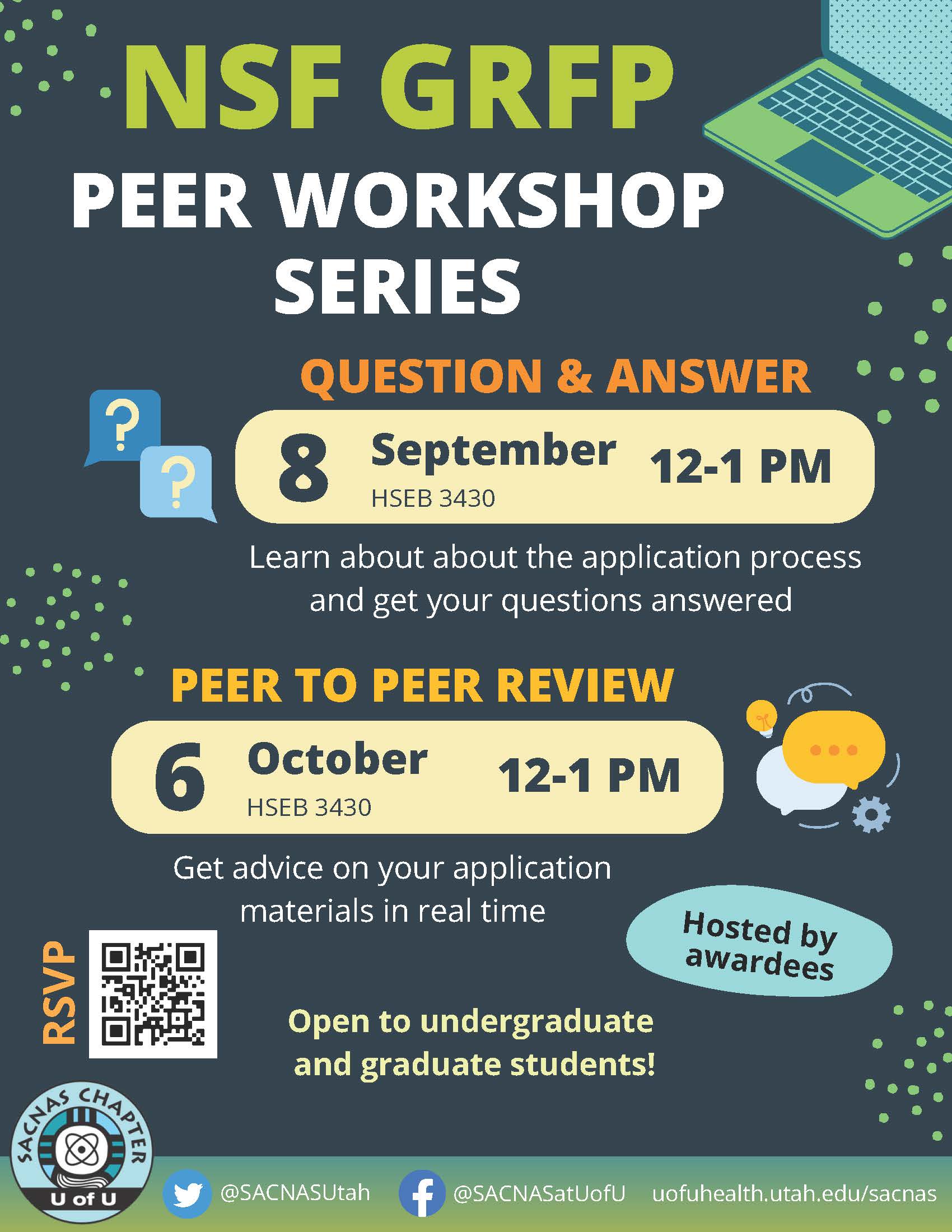 Breakfast with Dr. Coyote Maestes
October 24, 2023
9:30 am
HSEB 2949
Don't miss out on our breakfast event with Dr. Willow Coyote Maestes. During the breakfast, you'll have the opportunity to hear about his journey in science and chat in a friendly and engaging atmosphere. Spots are limited to the first fifteen people to RSVP, so make sure to sign up!!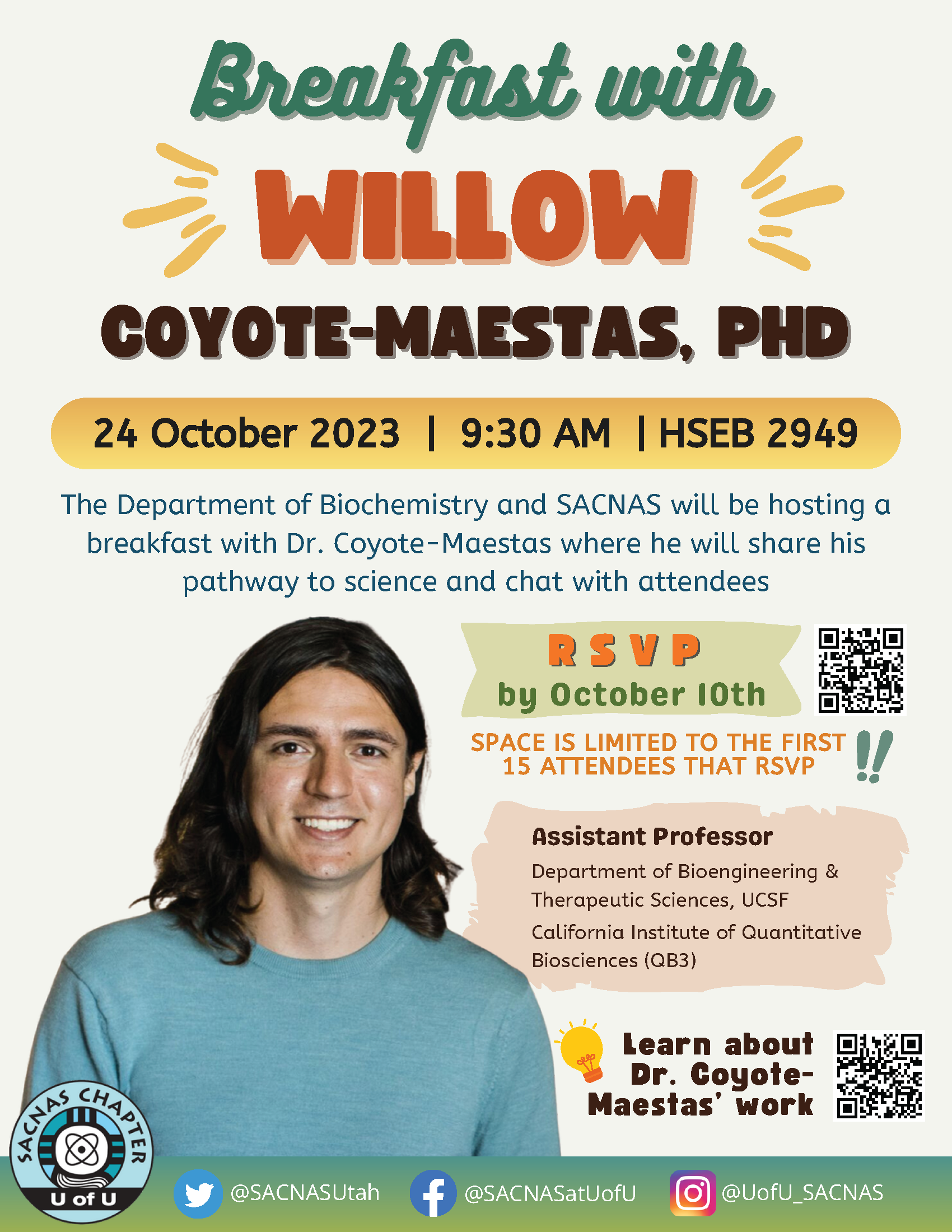 NSF GRFP Peer Workshop Series
September 8, 2023
12-1 pm
HSEB 3430
Join us for questions and additional insight to apply for the National Science Foundation Graduate Research Fellowship. No RSVP required.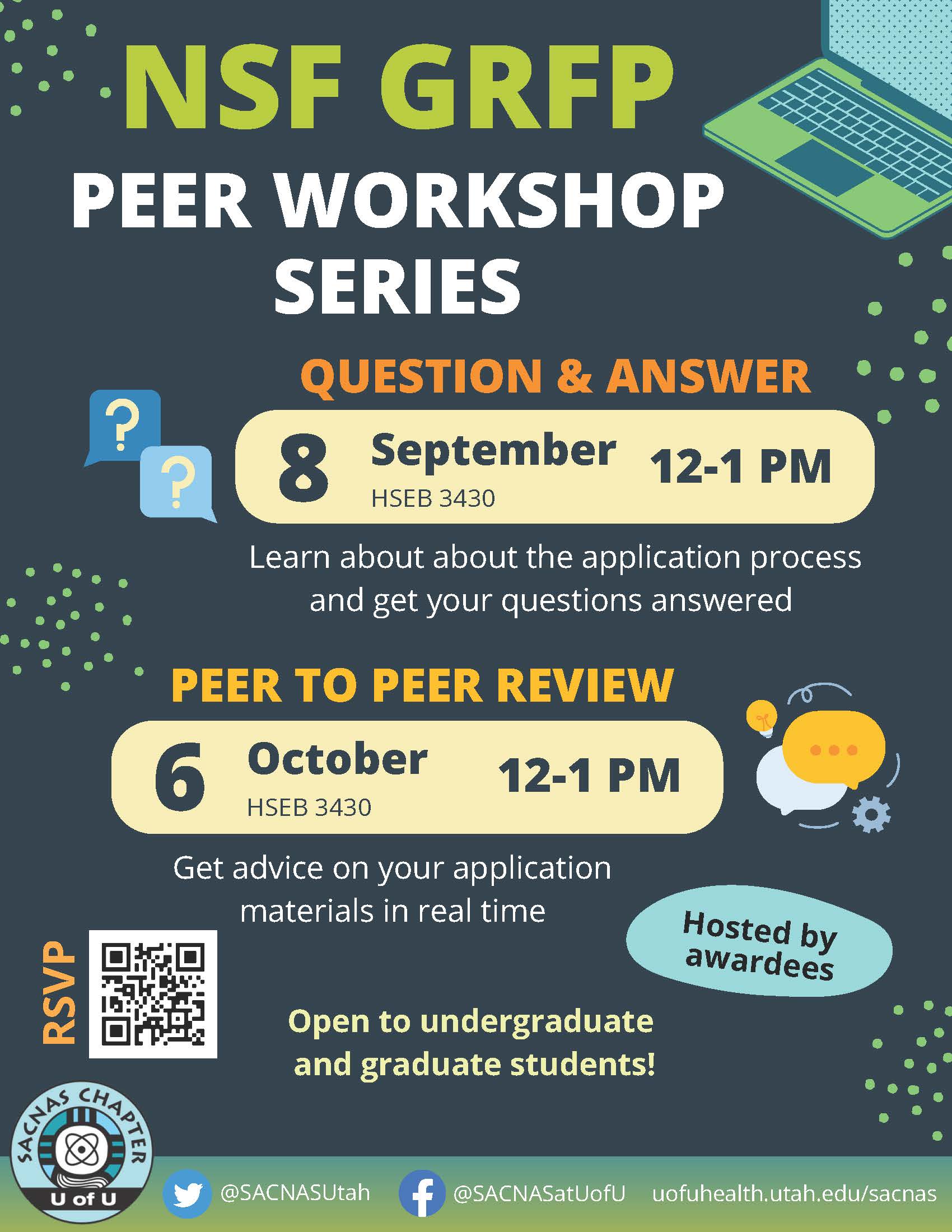 September 9, 2023
5:30 pm
Come join us for an evening celebrating the start of a new academic year with our lovely hosts' David Grunwald and Ellen Wilson. Information to the address and RSVP form can be found on our flyer or on our social media pages. We cannot wait to kick off the new year with you!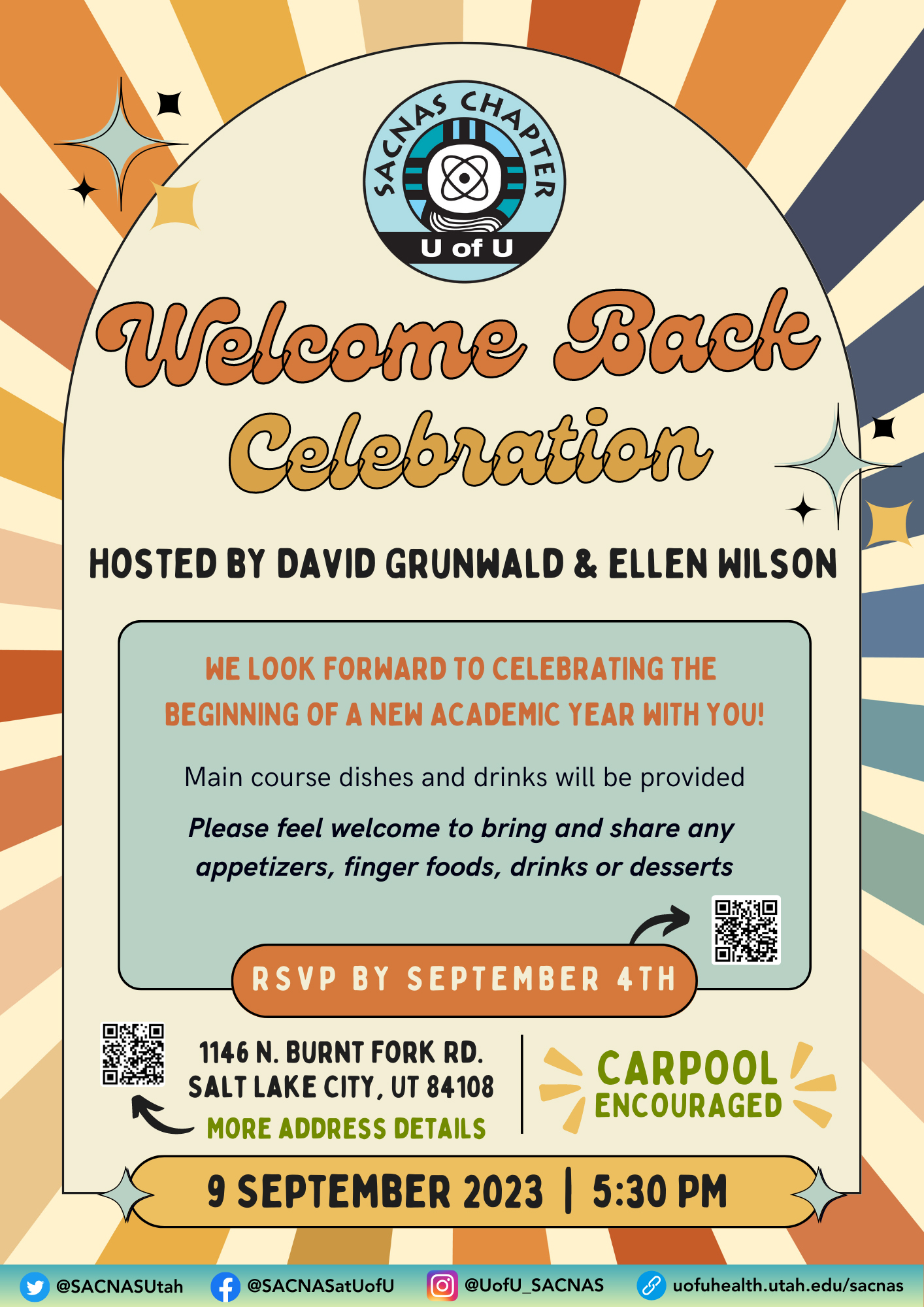 May 12, 2023
12-2 pm
HCI Research South Patio
Please join us this
Friday starting at 12:00 PM @ the HCI Research South Patio
for our End of the Year lunch & Awards Presentation! Come enjoy good food together and reflect on a year of wonderful SACNAS activities.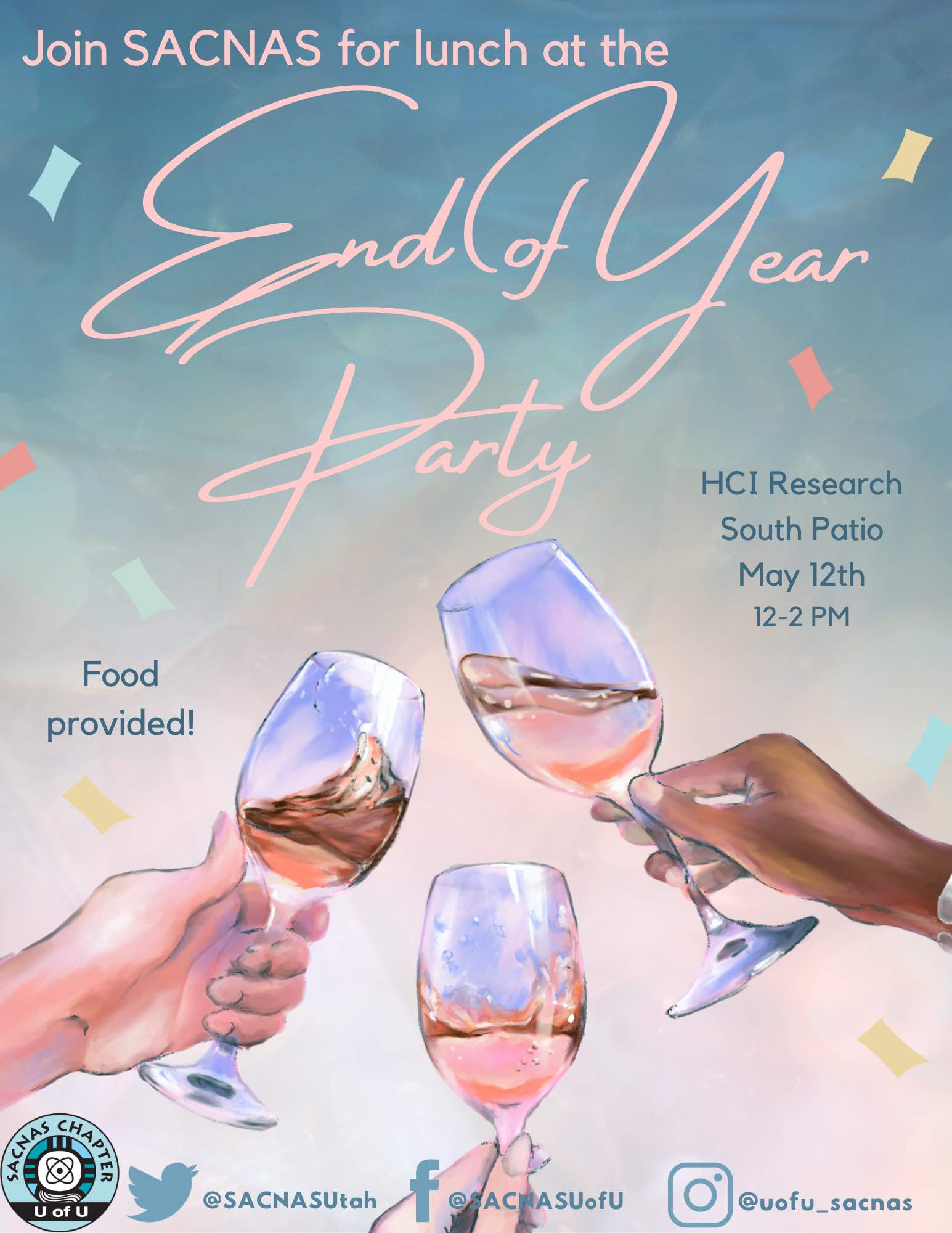 April 7, 2023
12 pm
HSEB 2948
Are you interested in Science Policy? Do you want to know what it's like to work as a scientist for a non-profit? Join us for this hybrid seminar to hear from Dr. Sophia Kaska to learn more about science policy and how you can be involved!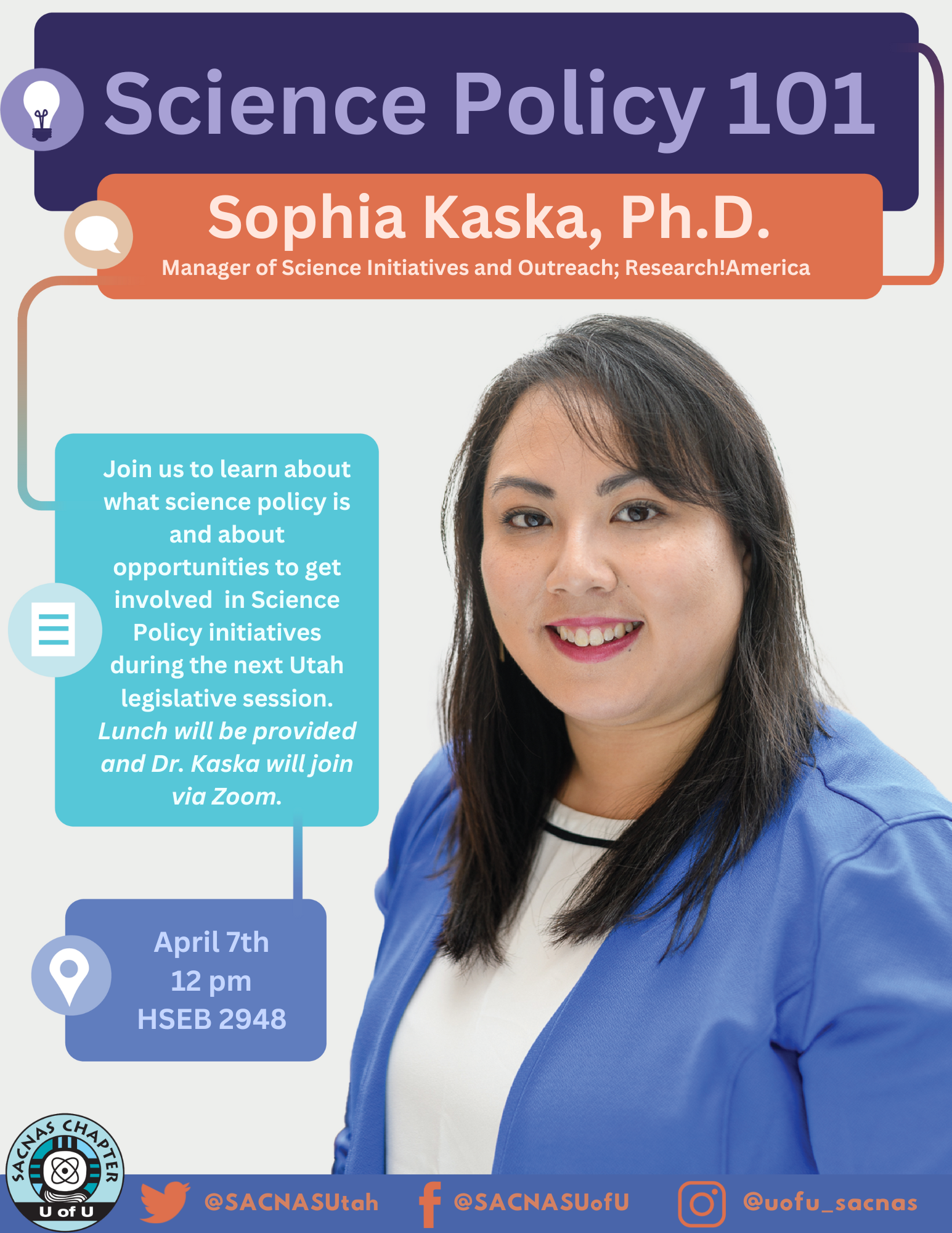 UofU Diversity in STEM Conference
April 8, 2023
10am-4pm
CSC 205, 206, & 208
SACNAS Main Campus is proud to celebrate and embrace diversity at the U and learn more about pursuing your career in STEM at our conference!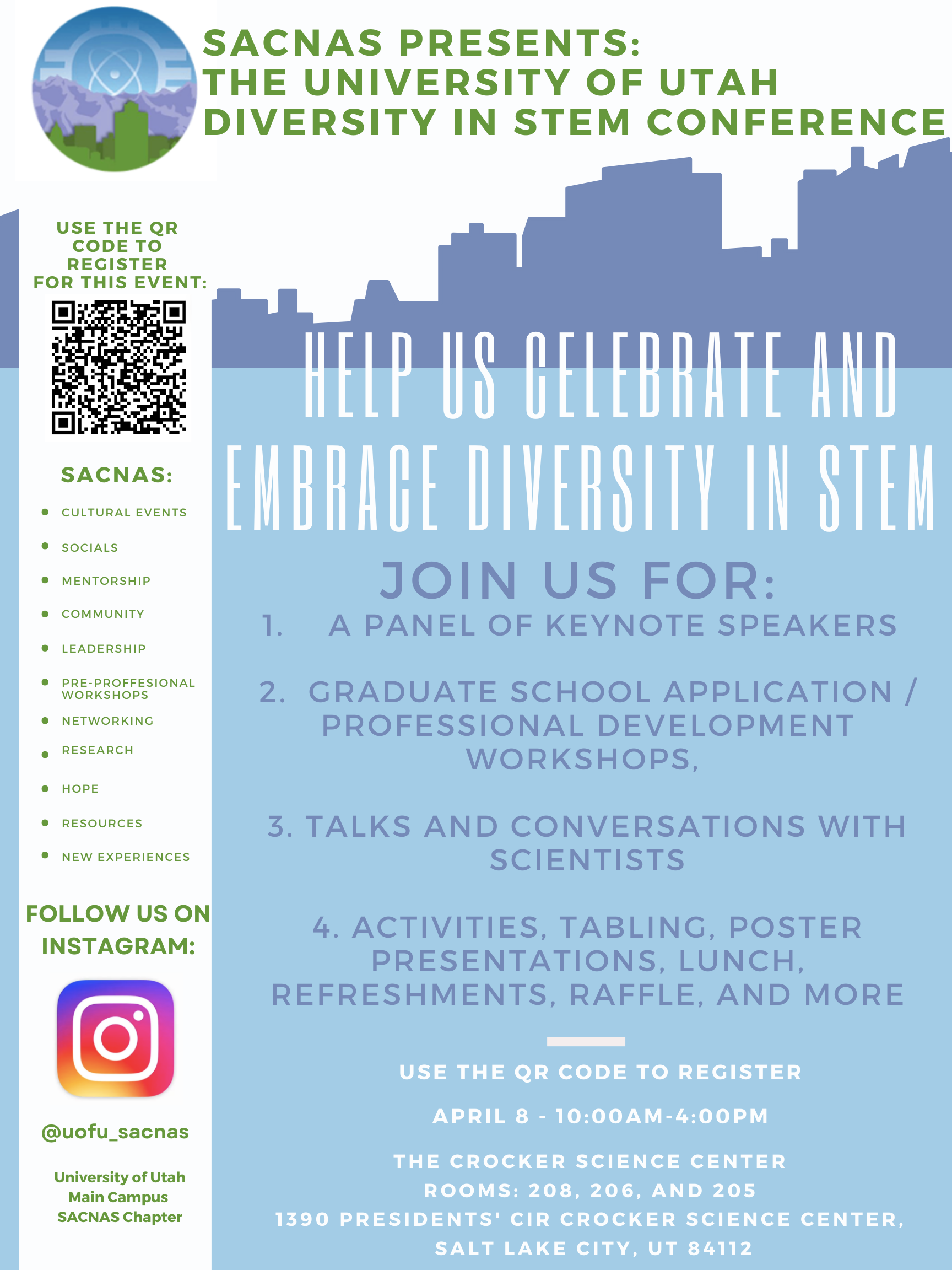 March 21, 2023
11-12 pm
HSEB 4100c
Join SACNAS and DASL for our Inaugural SSNAP (Scholars in Science Native American Path) Talk by Dr. Joslynn Lee!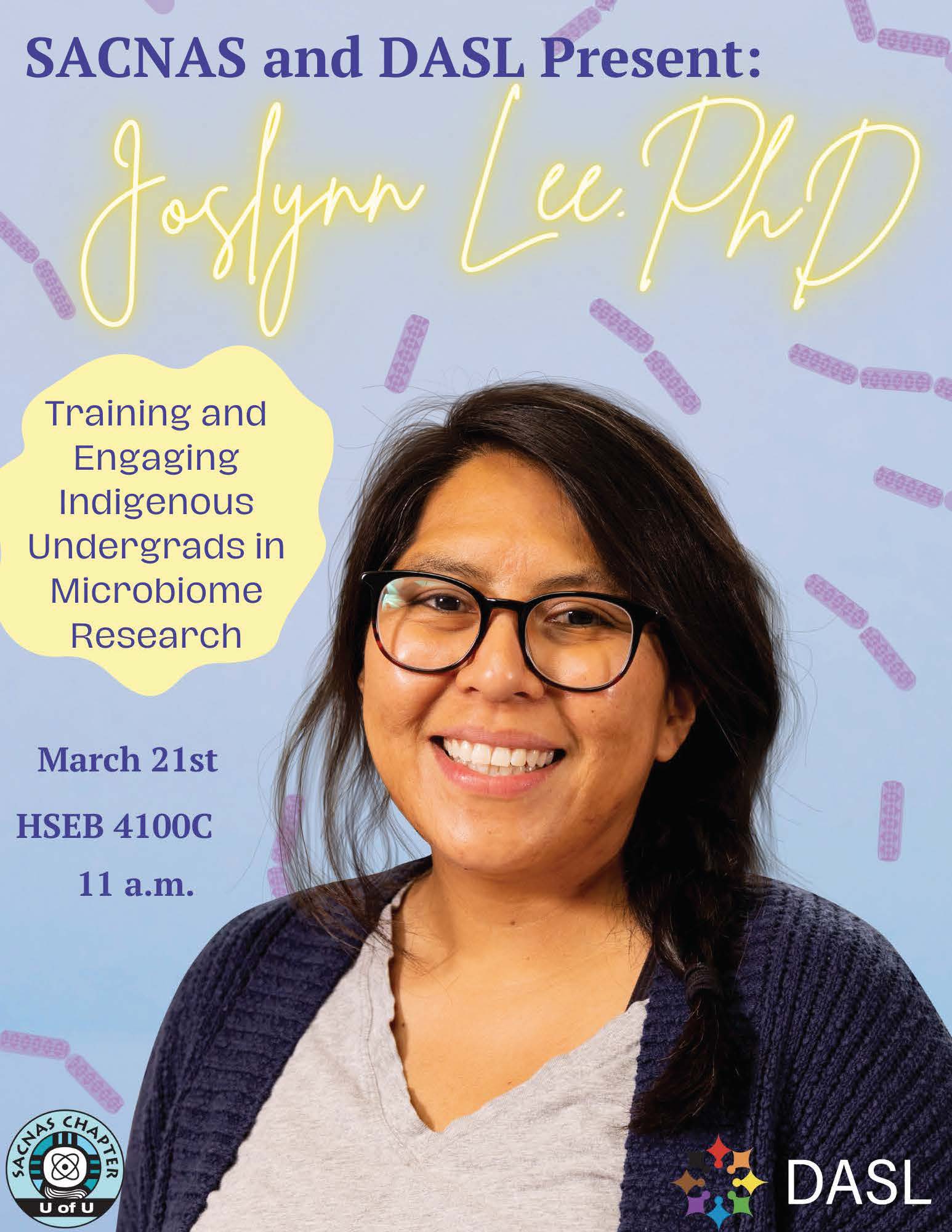 Breakfast with Dr. Wojcik
March 22, 2023
9:30am
HSEB 4100c
SACNAS and the Department of Human Genetics are hosting a breakfast with the Human Genetics Semianr Speaker, Dr. Gen Wojcik next week on March 22nd. Dr. Wojcik has graciously agreed to meet with students to discuss scientific training and EDI initiatives.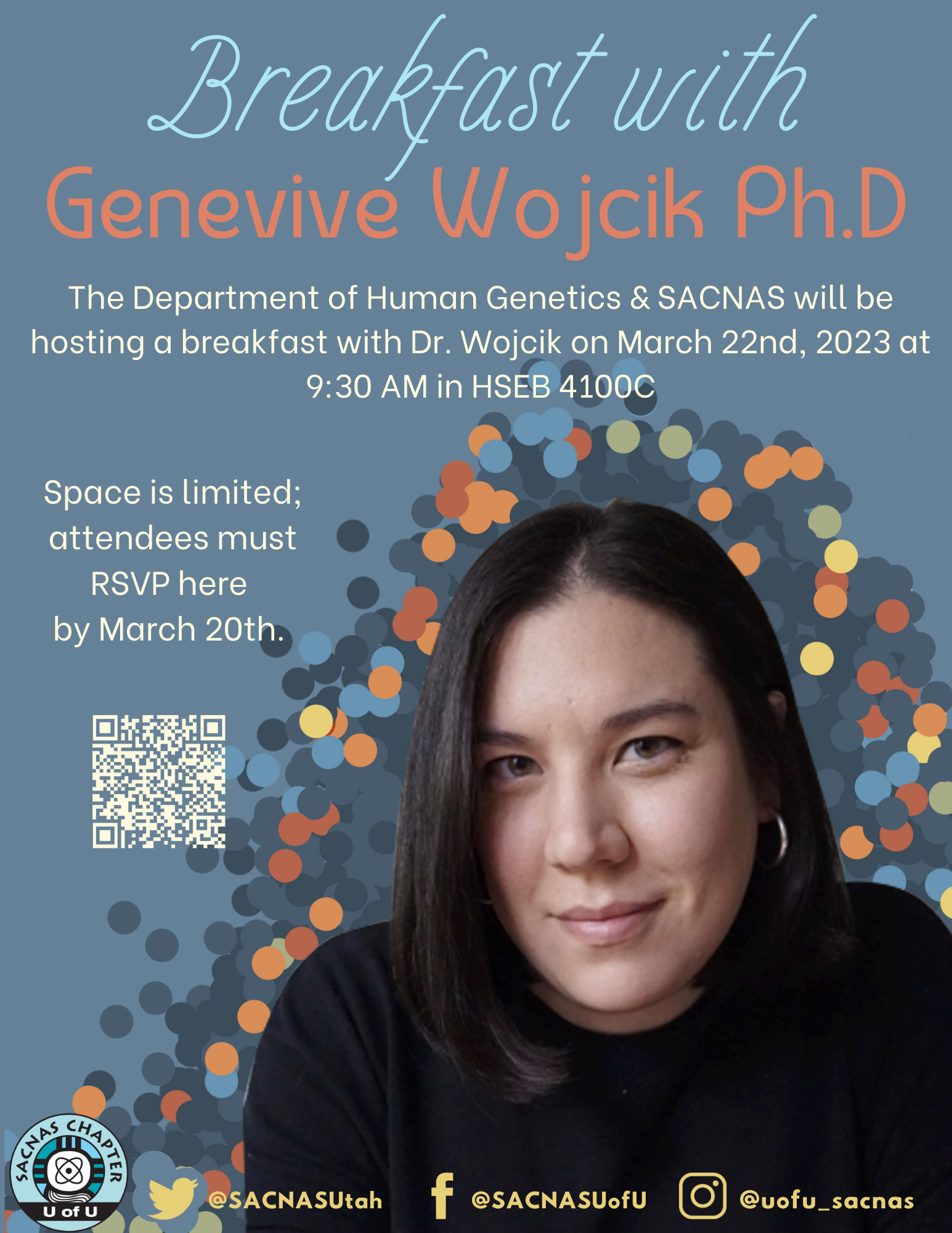 2022-2023 SACNAS Featured Speaker
February 17, 2023
12-1 pm
HSEB 1730
Please join us and hear Dr. Jeanette Ducut-Sigala talk about her pathway to science and her involvement, challenges, and vision as an EDI & STEM ambassador.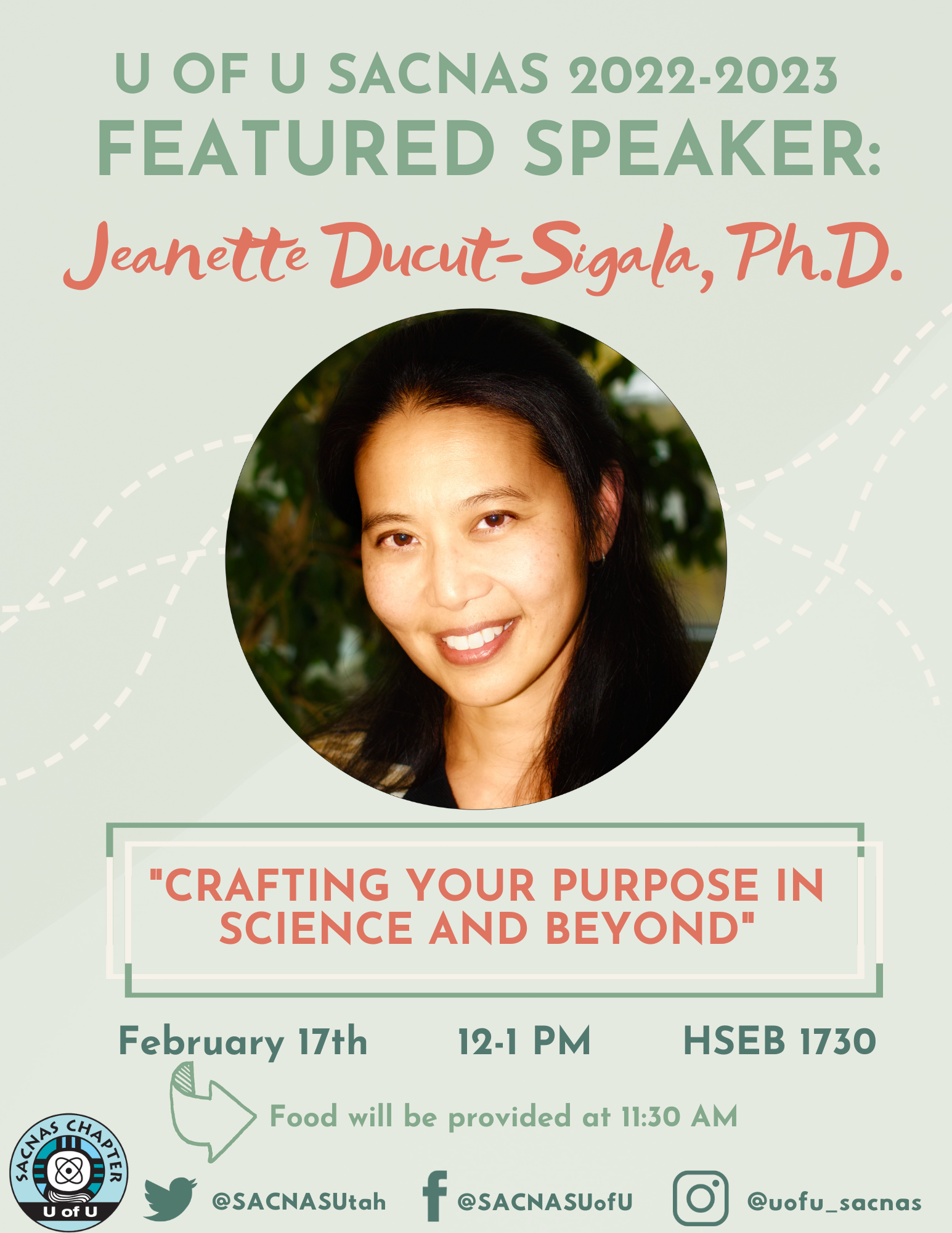 September 27, 2023
6 pm
Please join us for our February Social! We will be hosting an Indian Street Food Cooking Social! We will be making a few exciting street foods (Chaat) that every Indian grew up eating.