Loteria Night
(Dec 15, 2022) - Please join us for our December Social! We will be hosting a Mexican Lotería night! La Lotería (lottery) is a traditional game of chance often referred to as Mexican bingo. It features iconic images representing the heart of the community on a deck of cards instead of numbered ping-pong balls.
If you're looking to take a break from finals, socialize, make new friends, and maybe learn a little Spanish this is the space for you! So, grab your tablas (boards), and join us for the La Lotería to win some prizes and enjoy good food with SACNAS familia!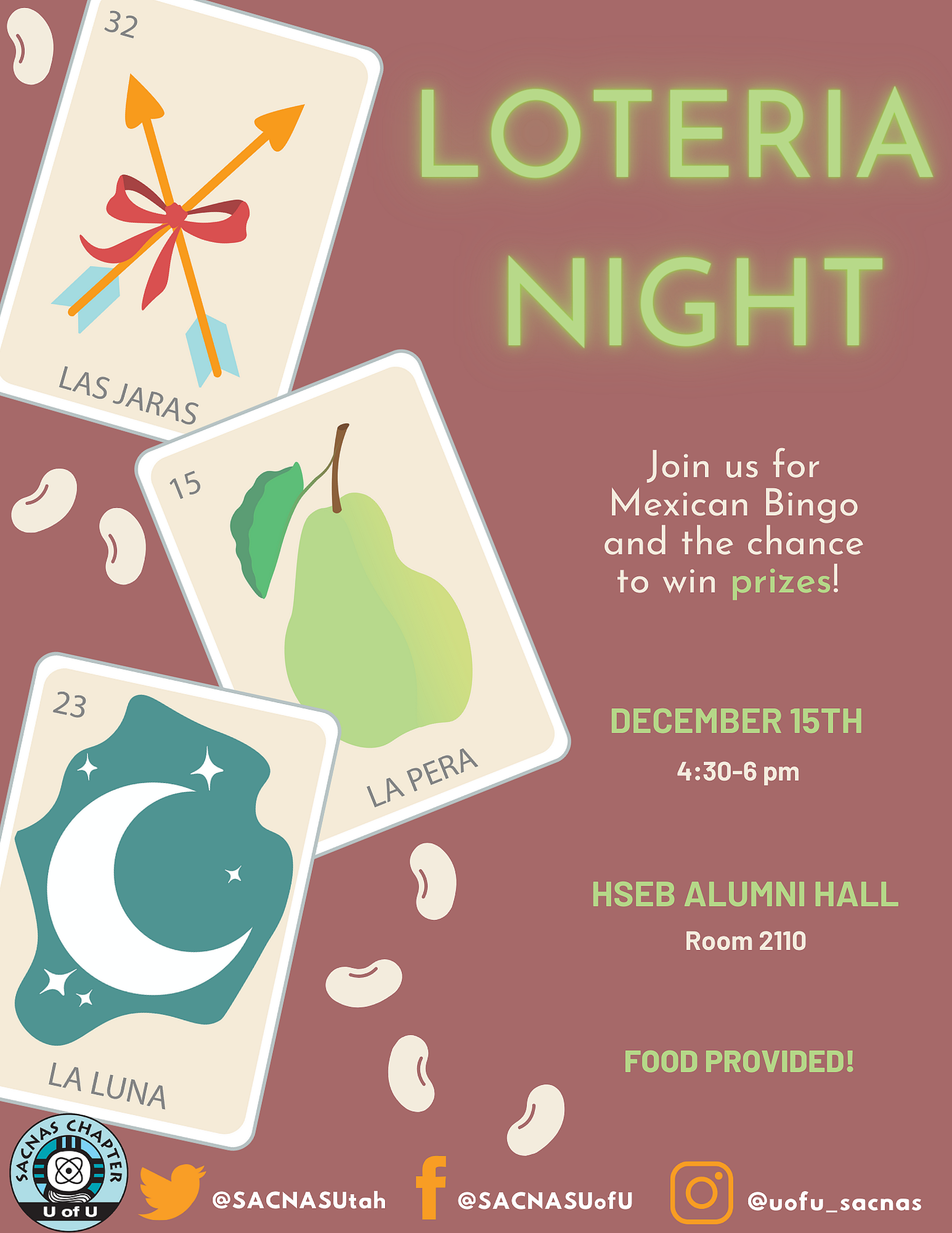 Black in Academia Talk
(Dec 8, 2022) - We wanted to make you aware of our upcoming Black in Academia series that will be headlined by Dr. Flattes Valeria, Associate Dean for Equity, Diversity, & Inclusion. She will share her personal and professional journey through academia with us at the HCI Research South Auditorium between 12-1pm.
Resume Workshop
(Nov 15, 2022) - Are you applying for grants and fellowships soon? Trying to land that dream job? Looking into getting a post doc? Having polished resume skills will give you a leg up in all these application processes. Come hone these skills by joining us for a Resume Workshop featuring Graduate Career Coach Dan Moseson, PhD. Dan specializes in helping University of Utah students navigate their graduate career experiences and he loves helping folks gain new perspectives on their skills and accomplishments to understand the full extent of their potential.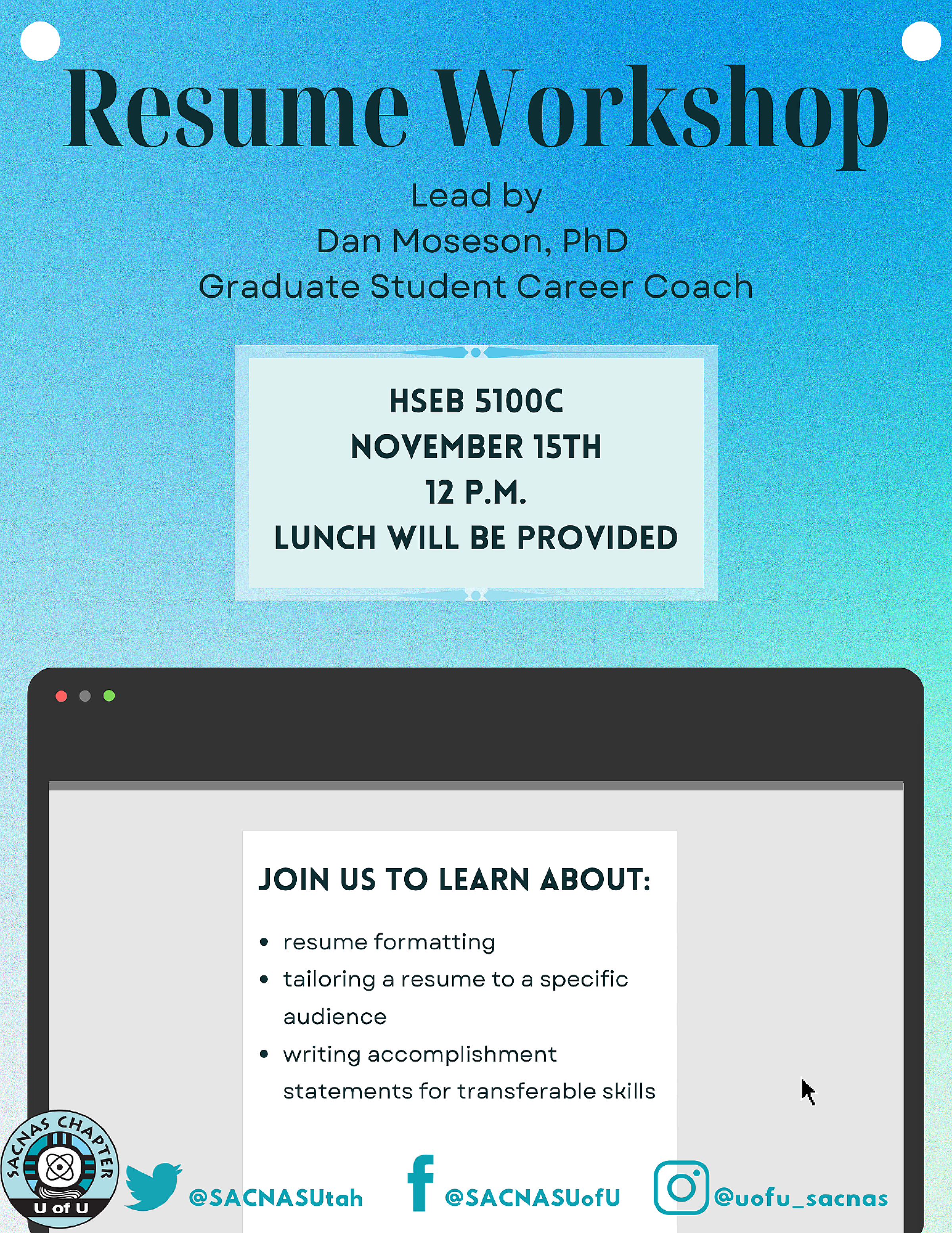 SACNAS Travel Scholarship Social
(Oct 24, 2022) - Come learn more about our SACNAS Chapter's Travel award and hear from our first cohort of SACNAS Scholarship awardees as they give brief presentations on their conference experience and share their research with our community. Lunch will be provided.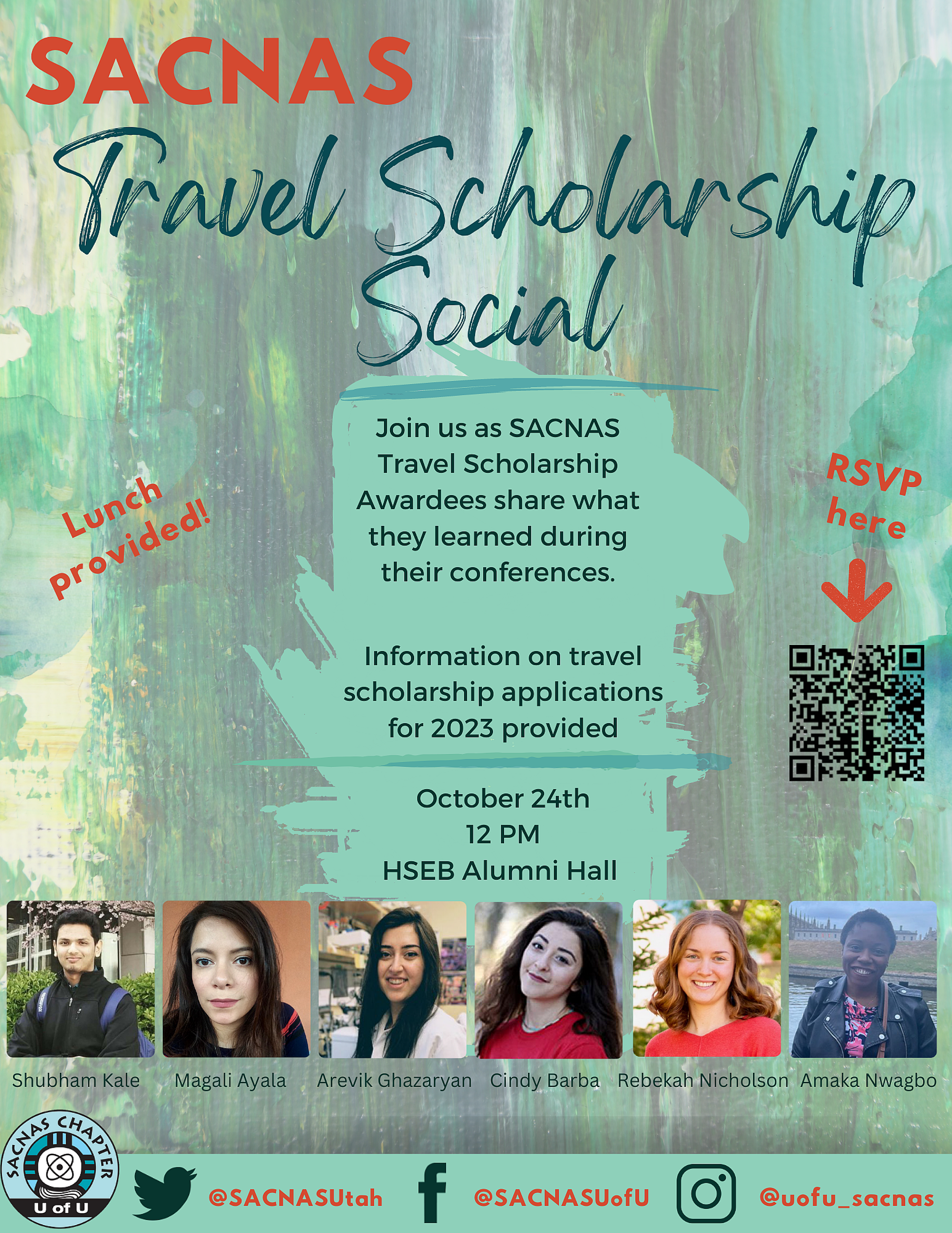 Troubleshooting Academic STEM: A Survival Manual
(Oct 4, 2022) - Join SACNAS and DASL for our first seminar talk of the year by Dr. Margaret Werner Washburne! Dr. Werner Washburne is an accomplished molecular biologist and advocate for EDI and EDI initiatives. Currently, Dr. Werner Washburne serves as professor emeritus at the University of New Mexico and is a founder and board member of STEM Boomerang, a company dedicated to helping STEM professionals find and make connections to discover career opportunities in New Mexico through education and mentorship. Dr. Werner Washburne will be giving a talk on resilience and navigating the academy through her experience as a mentor and student advocate.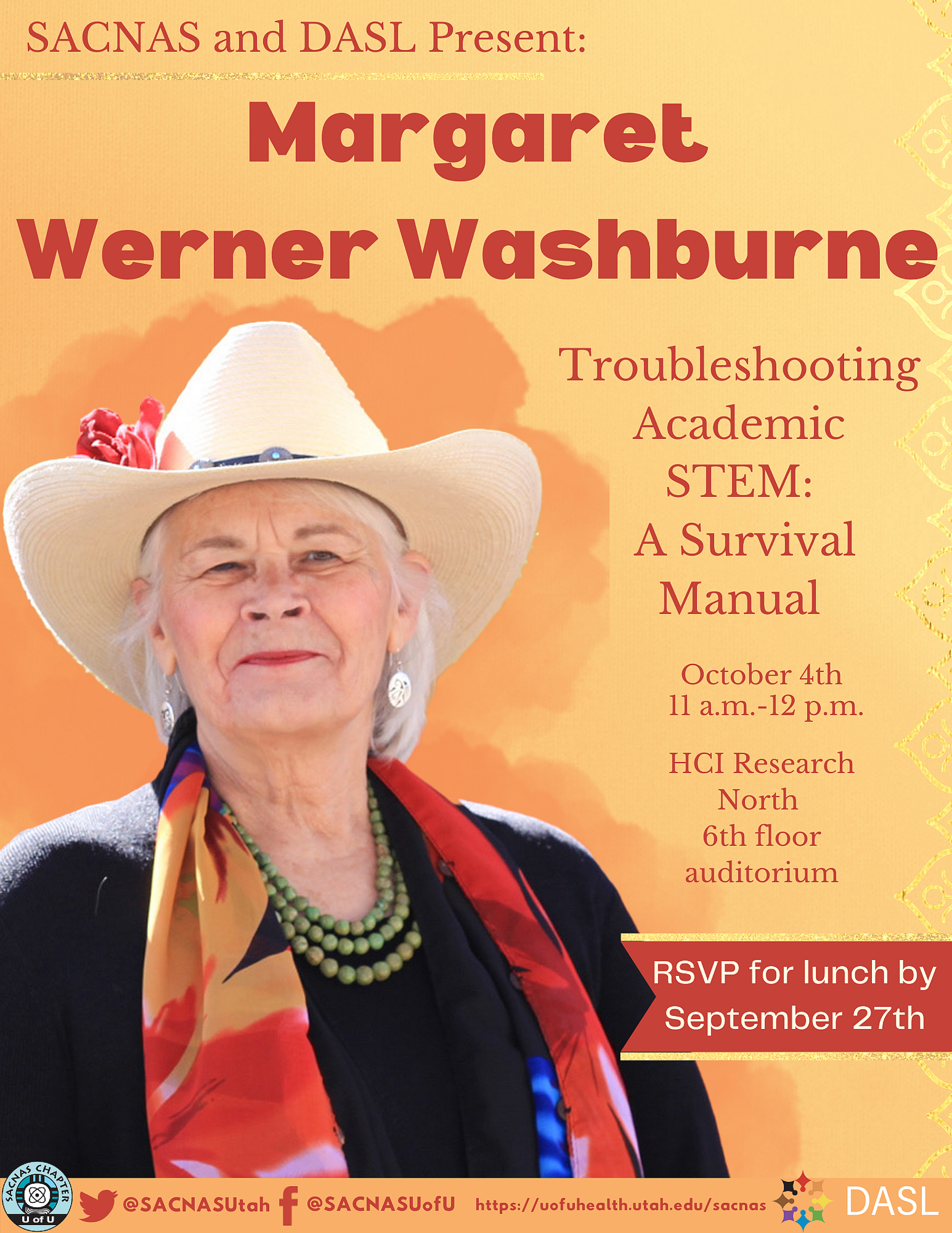 NSF GRFP Peer Workshop Series
(Oct 3, 2022) - Please join us for part two of our peer led NSF-GRFP series. Here we will actively review research and personal statements of those applying to the NSF-GRFP and answer any lingering questions you may have.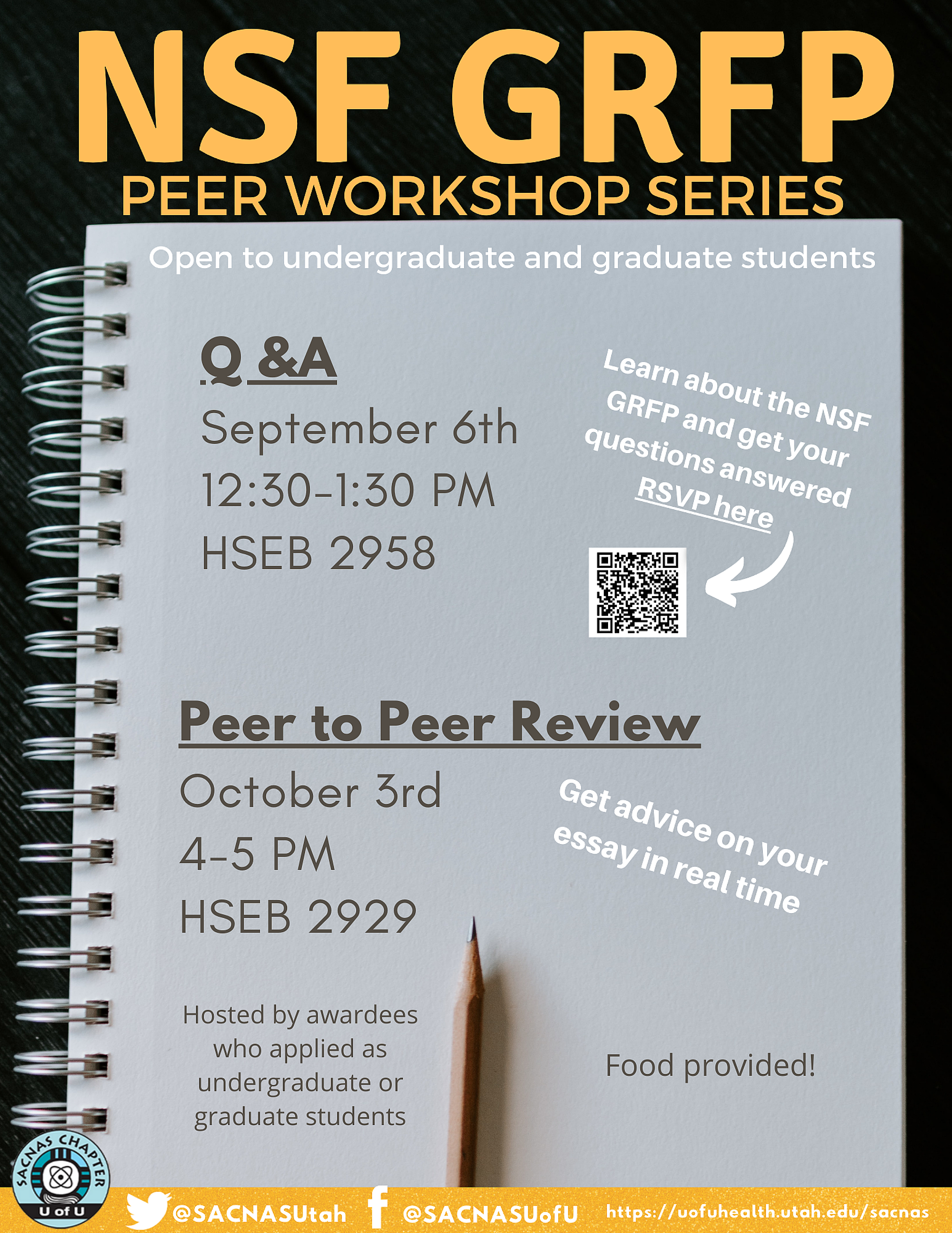 Welcome Back Party
(Sep 17, 2022) - Please join us at our welcome back party hosted by David Grunwald and Ellen Wilson.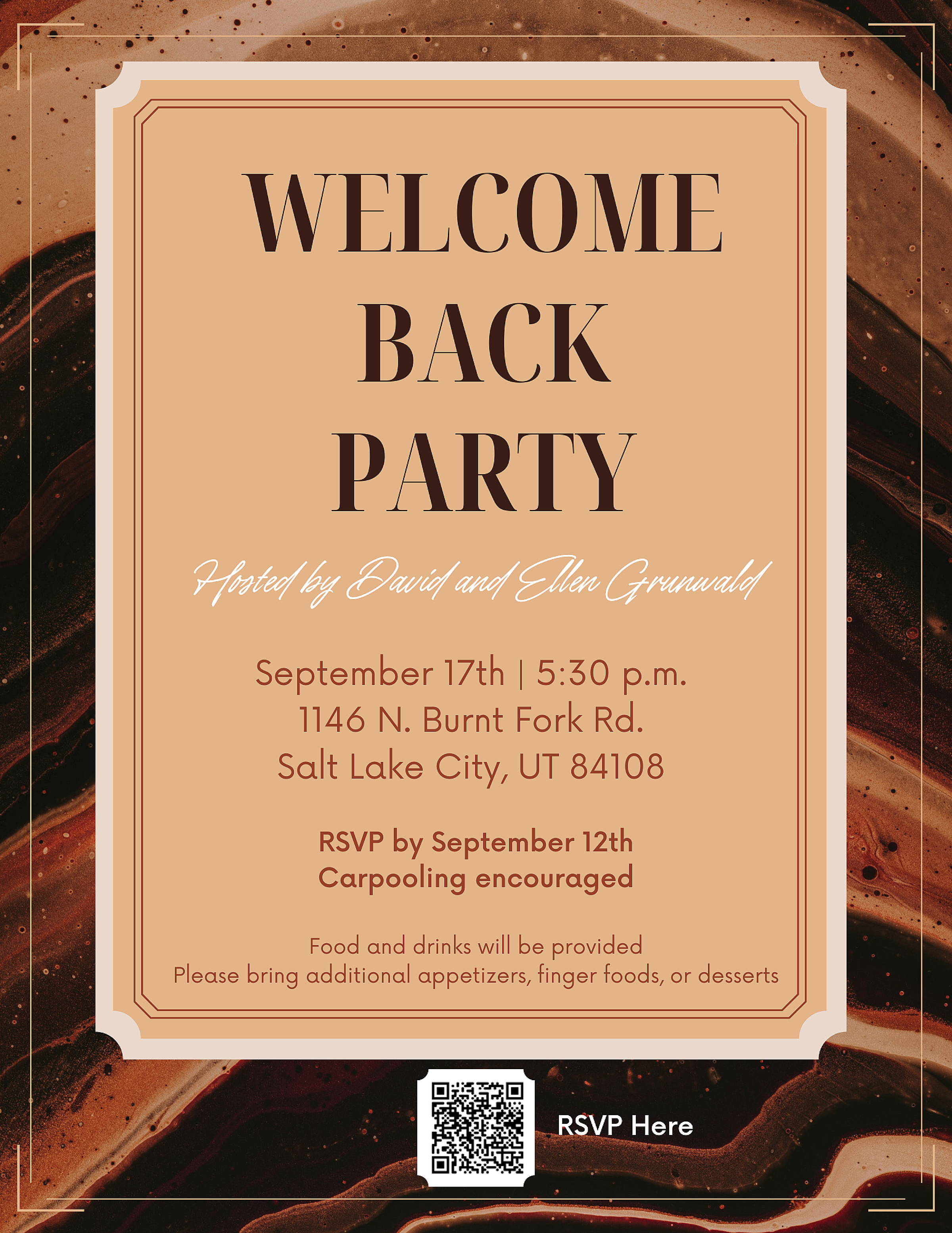 NSF GRFP Peer Workshop Series
(Sep 6, 2022) - Join us for the first part of our peer-led workshop on successfully applying and preparing for the National Science Foundation Graduate Research Fellowship (NSF-GRFP). If you are considering submitting an application for this program either as an undergraduate or graduate student, this event is an excellent way to get started and learn what makes for an effective submission.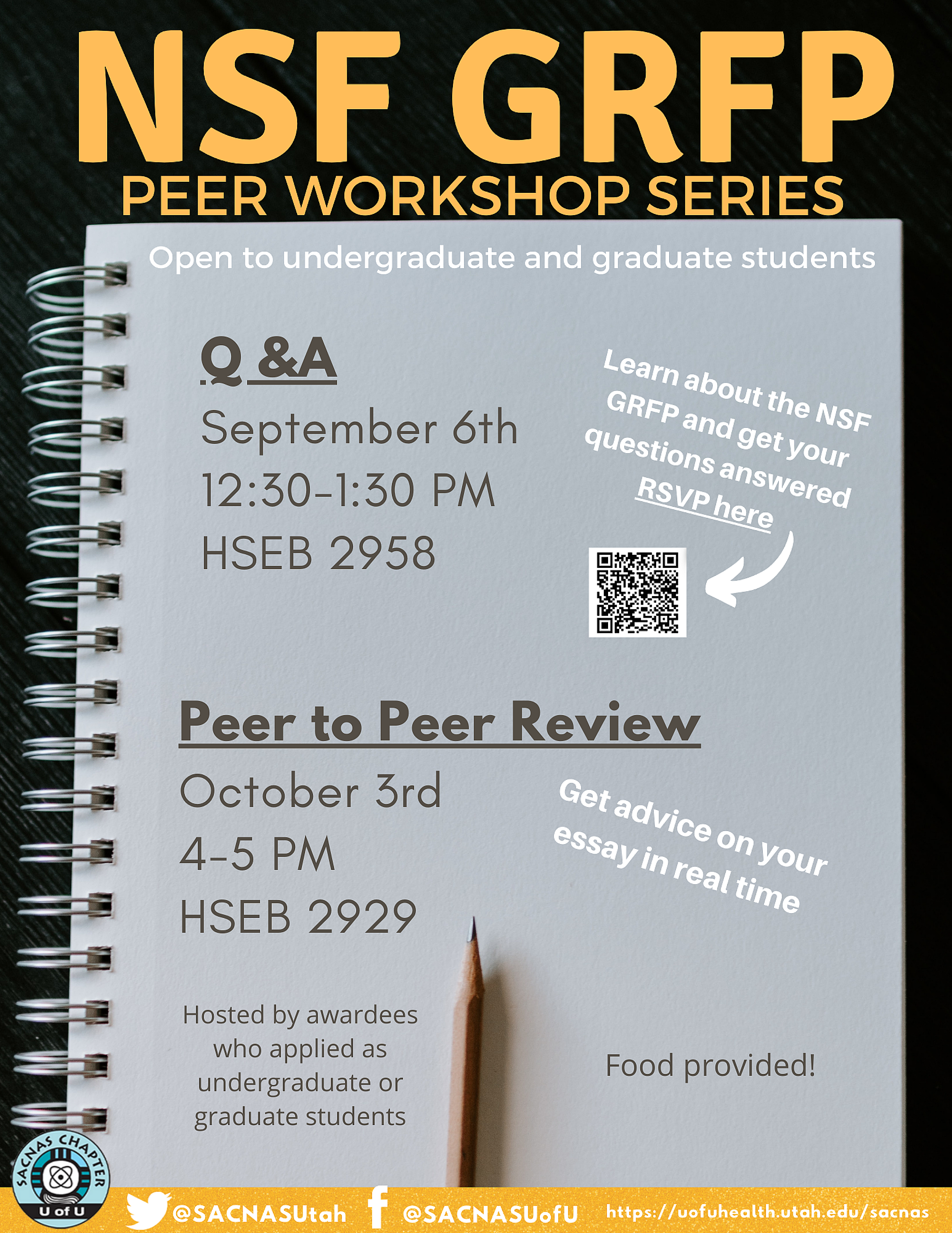 Welcome Back Ice Cream Social
(Aug 30, 2022) - Please join us in celebrating the start of the 2022-2023 academic year!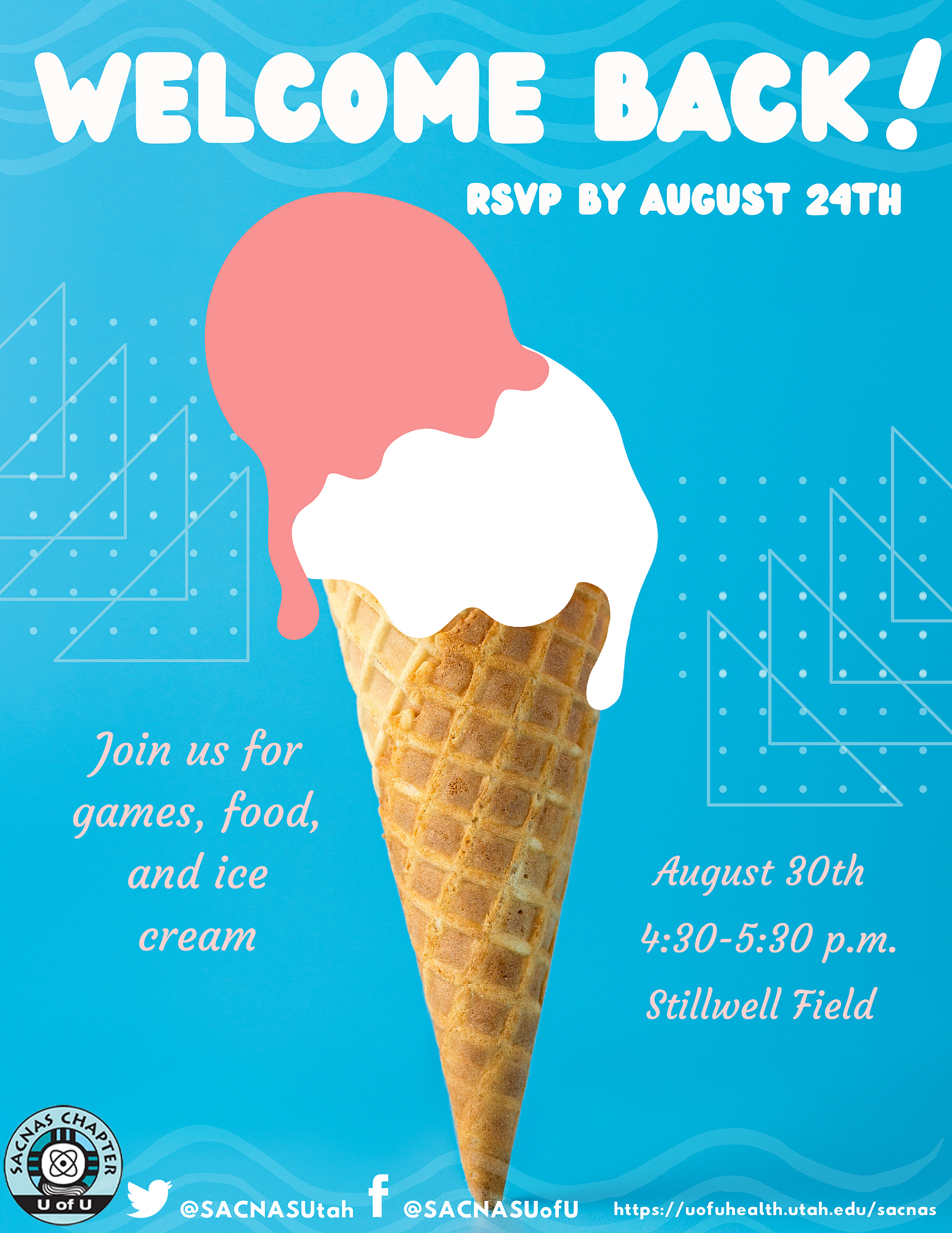 Disability and Access in STEM
(Apr 12, 2022) - Please join us in collaboration with DASTEM for our Inclusive Teaching in Science Seminar on April 12 from 1pm-2pm. We will explore the importance of inclusive classroom practices and their benefits on student well being and success.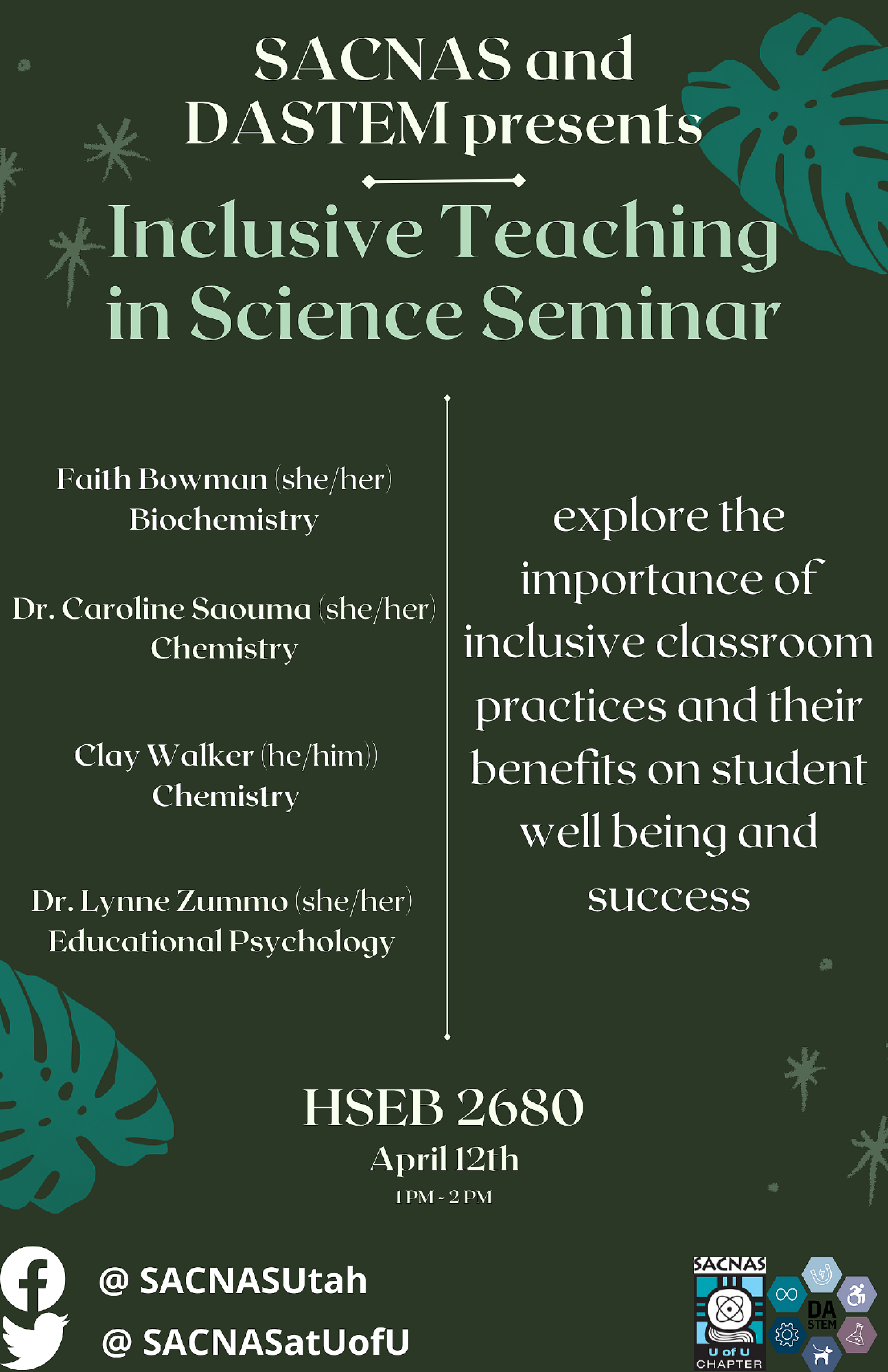 Ice Skating at Utah Olympic Oval
(Mar 18, 2022) - If you're looking to get a taste of the Winter Olympics, join us at the Utah Olympic Oval on Friday, March 18 from 7-8PM for a night of ice skating! Check your email for more details and for a sign-up form!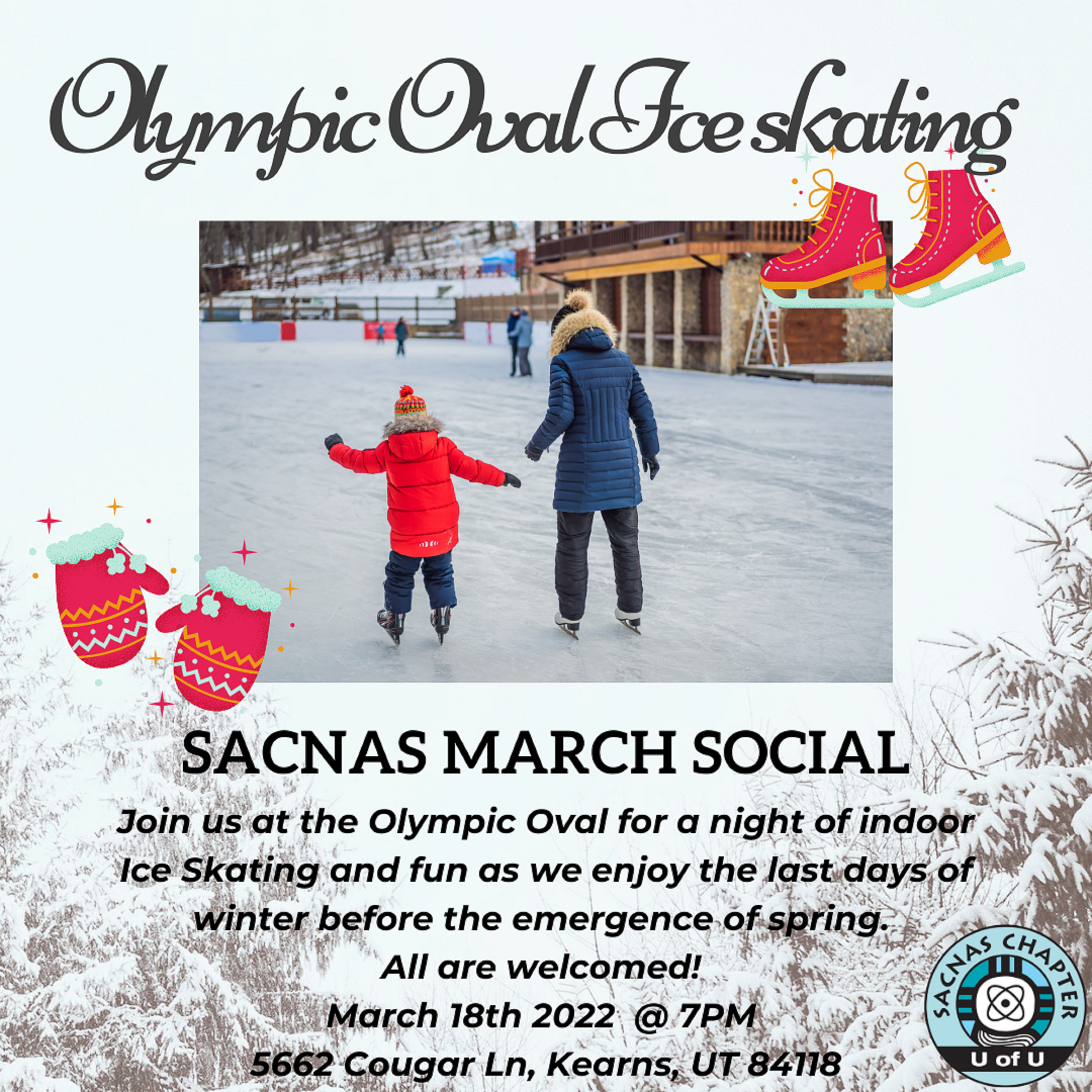 Evening Relaxation Yoga
(Jan 24, 2022) - Please join us for an evening relaxation yoga class on January 24, 7:30pm - 8:30 pm, taught by certified yoga instructor Kristen Mackie! Email us for a Zoom link or check your email!