Creating a Pipeline to Success
The University of Utah School of Medicine has collected plenty of prestigious accolades over its 115-year history. The only MD-granting medical school in the state, at the only academic medical center in the Mountain West. The nation's first Department of Biomedical Informatics. The world's first artificial heart implant. The first extramural grant awarded by the National Institutes of Health. And a Nobel Prize, just to name a few.
On top of those cutting-edge clinical and research advances, the medical school now leads the way for community outreach and engagement at U of U Health. "We are uniquely positioned to serve the community," says Paloma Cariello, MD, MPH, associate dean of Health Equity, Diversity, and Inclusion (HEDI) and an associate professor of infectious diseases. "We have close professional relationships with community pillars, including educators and leaders, at the most fundamental levels of education and health."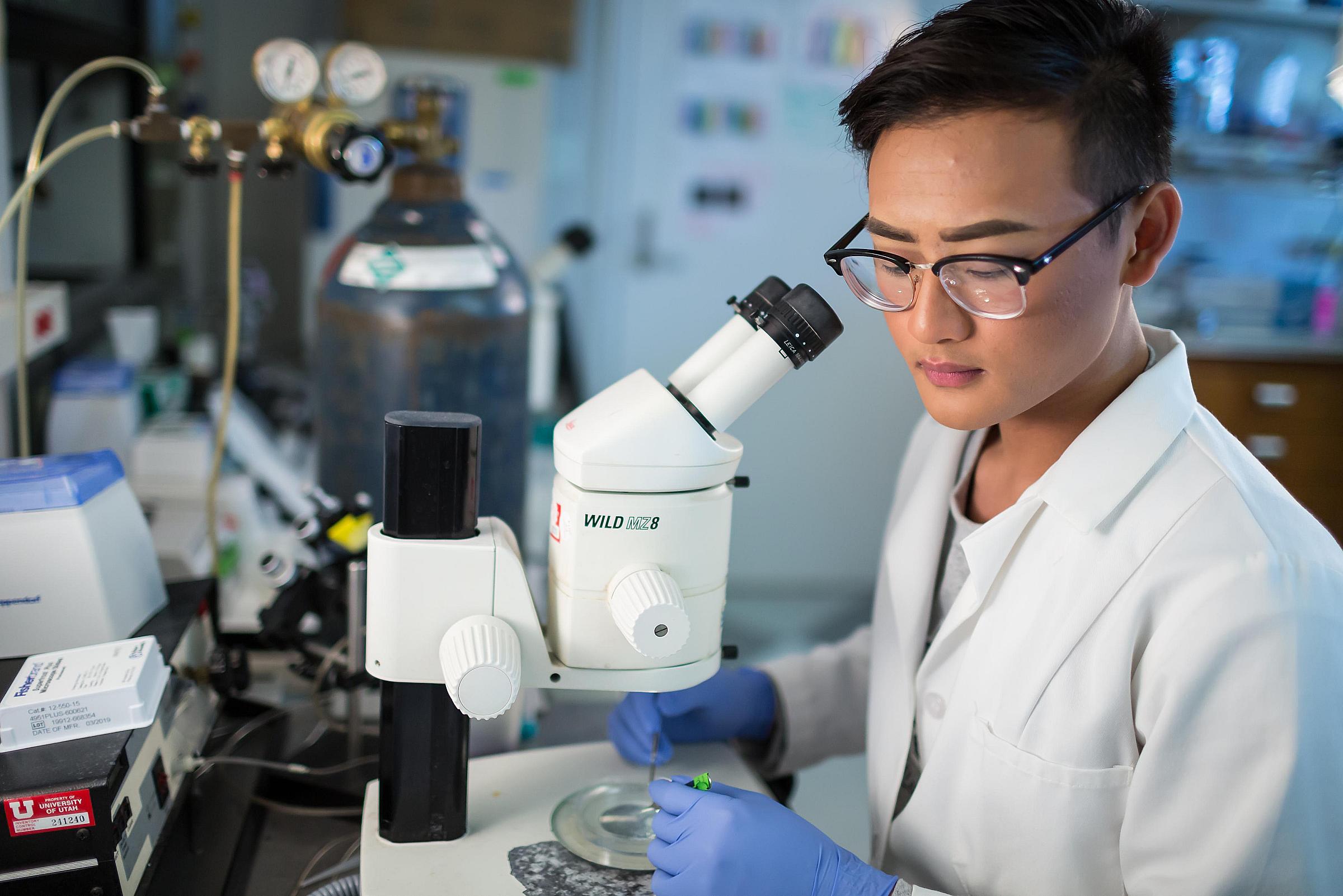 That commitment extends across the state. In St. George, a new Physician Assistant extension program run in conjunction with Dixie State University and Intermountain Healthcare's Dixie Regional Medical Center recently celebrated its inaugural class (pictured below). The program meets a critical community need for PAs: demand for physician assistants is expected to jump 30 percent in the next 10 years.
PAs specialize in team-based, collaborative work, which can help rural and underserved communities improve patient outcomes, enhance system efficiency, and lower costs. "We're excited to partner with U of U School of Medicine to provide access to one of the best PA programs in the country to students in our local Southern Utah community," says Carole Grady, EdD, former dean of Dixie State University's School of Health Sciences. 
The Native American Research Internship provides college students from Utah's Shoshone and Navajo tribes (along with 44 other tribal nations across North America) with an outstanding biomedical and health sciences research foundation. Other educational pipeline programs like Health Sciences LEAP, Health Professions Academy, Pathmakers, Summer MCAT, and Future Doctors offer a sustainable and culturally aware pathway into the medical profession.
"Our biggest goal is to increase the number of students underrepresented in medicine and provide adequate support throughout the process," Cariello says. "We have a responsibility to encourage kids throughout the state to envision a future where they're a physician in their community. That's a goal we take very seriously."
Through these outreach programs, some of the connections are made early in elementary school. "We watch them grow and mature, and we encourage them to pursue their dreams," Cariello says. "We mentor, cheer, and support them in a dynamic and optimistic way because we want them to be successful and happy in whatever life path they choose."
The School of Medicine—which regularly ranks in the top 10 nationwide for research, education, and clinical care—trains the majority of physicians in Utah. Knowing that we're improving the health of communities throughout the entire state builds a sense of pride.