Bench to Bedside 2021 - 2022 Competition Gallery
A year-long effort, the Bench to Bedside program gives students from across Utah the opportunity to dive into the process of health care innovation, and leverage their skills to bring positive change to how we care for members of our communities.
Culminating in the annual Competition Night, teams showcase their hard work to mentors, judges, health care providers, industry professionals, family, friends, and the public under the dome of the Utah State Capitol Building. Offering a chance to interact with the hundreds of attendees, students present their innovative devices and applications before judges submit final evaluations. Once the final scores are tallied, our awards presentation begins, highlighting the success of the winning teams.
2022 GRAND PRIZE WINNER
LERC Medical developed the Dual Function Esophageal Probe, a device that measures oxygen saturation and temperature centrally via the esophagus, improving accuracy and reducing the number of wires in the surgical theatre.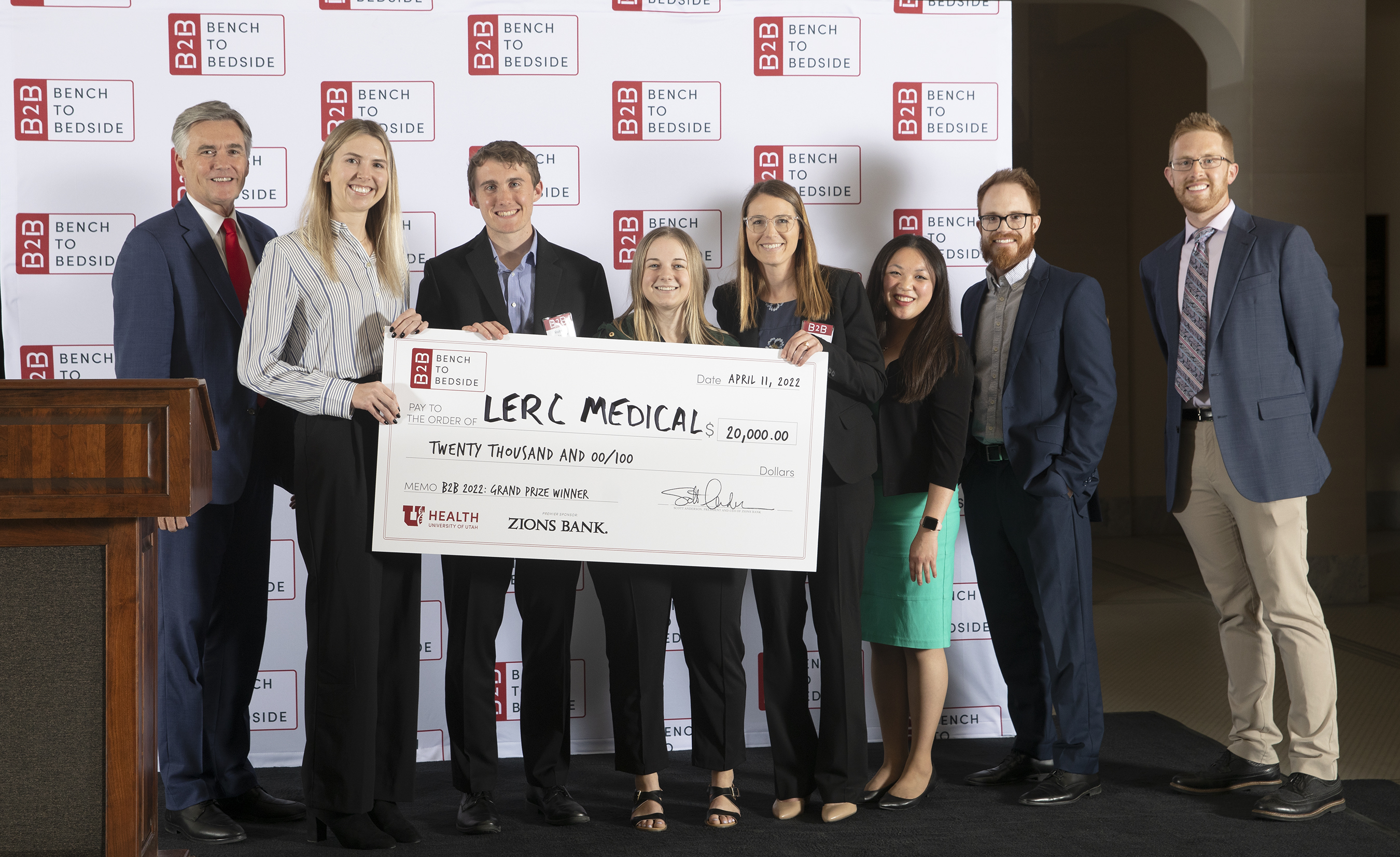 2022 LEGACY GRAND PRIZE WINNER
uAir developed a mini albuterol inhaler for those with allergies and sports induced asthma. The device is highly portable (about the size of a key fob), readily accessible, and more affordable than other inhalers. The technology is based on the only miniature dose inhaler valve in the world.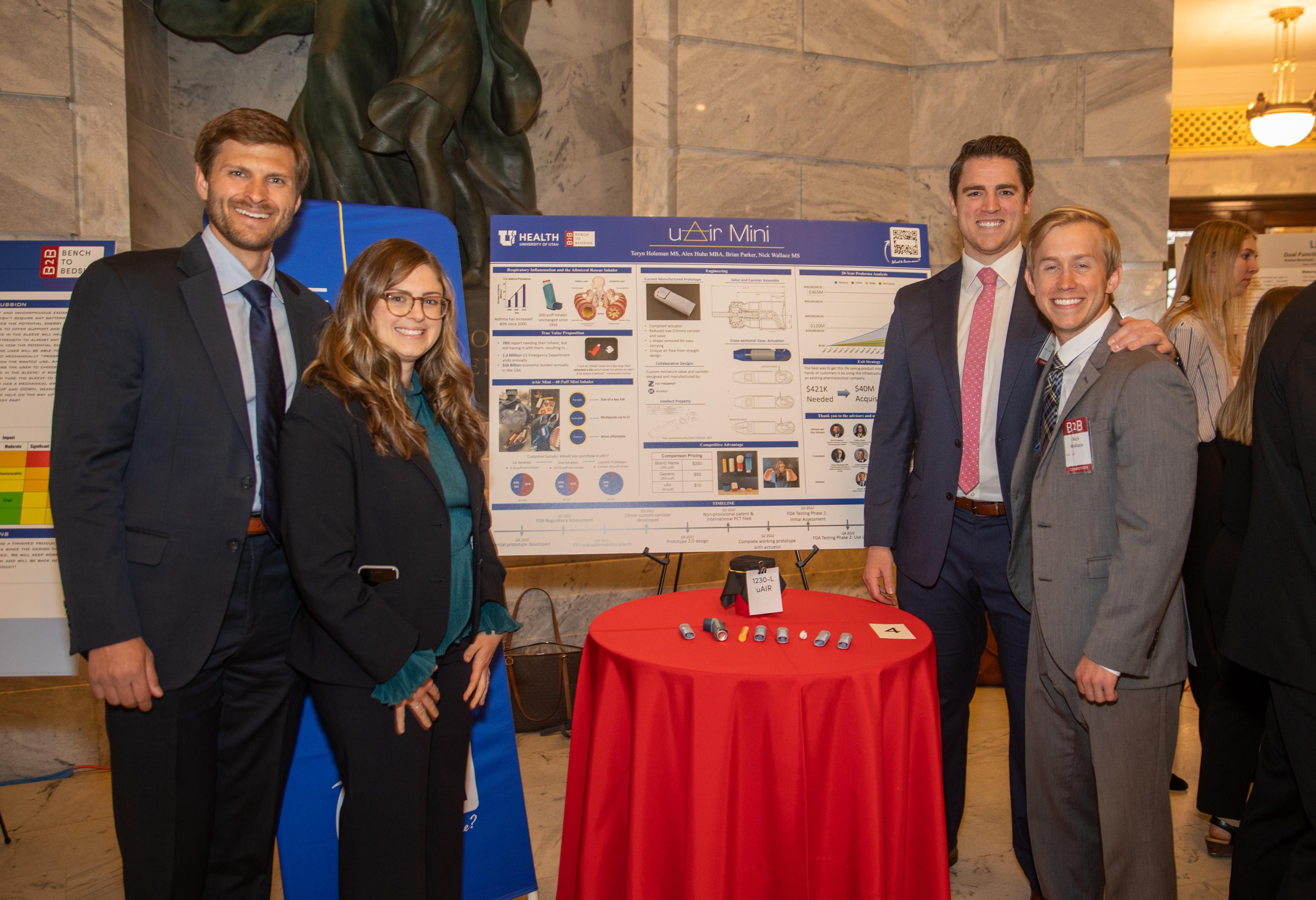 B2B 2021 - 2022 BY THE NUMBERS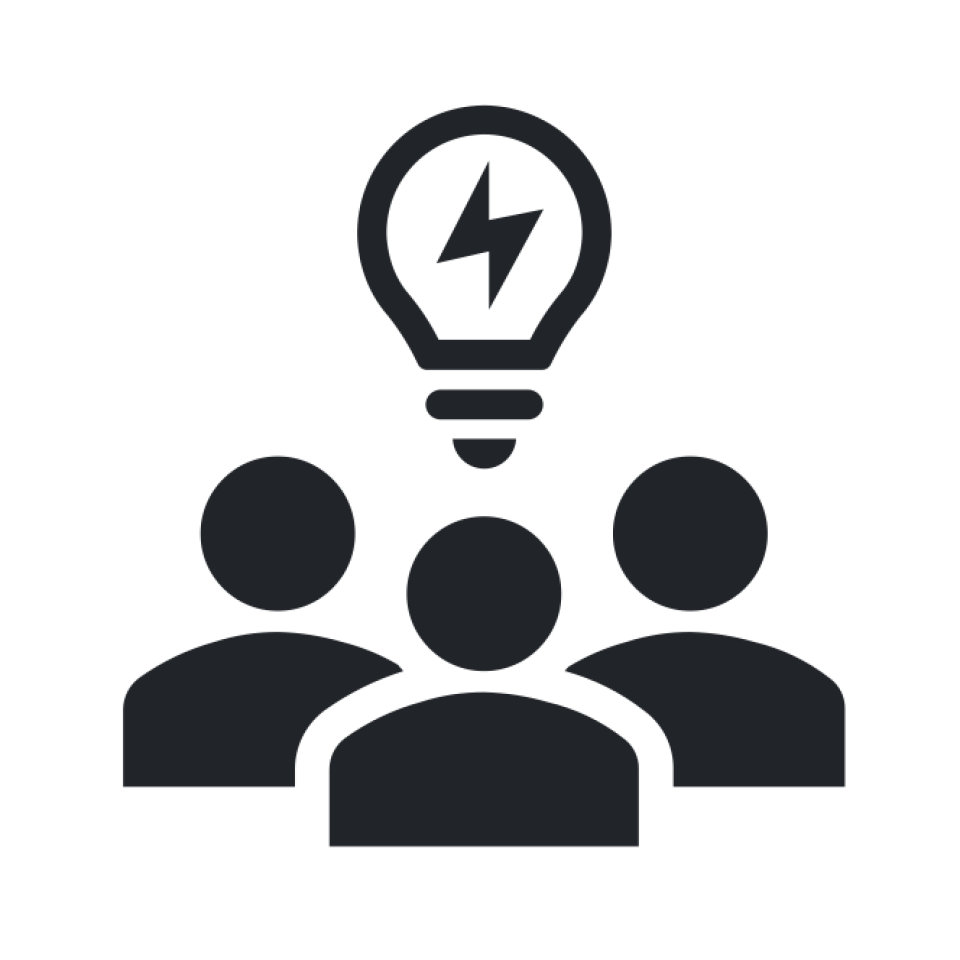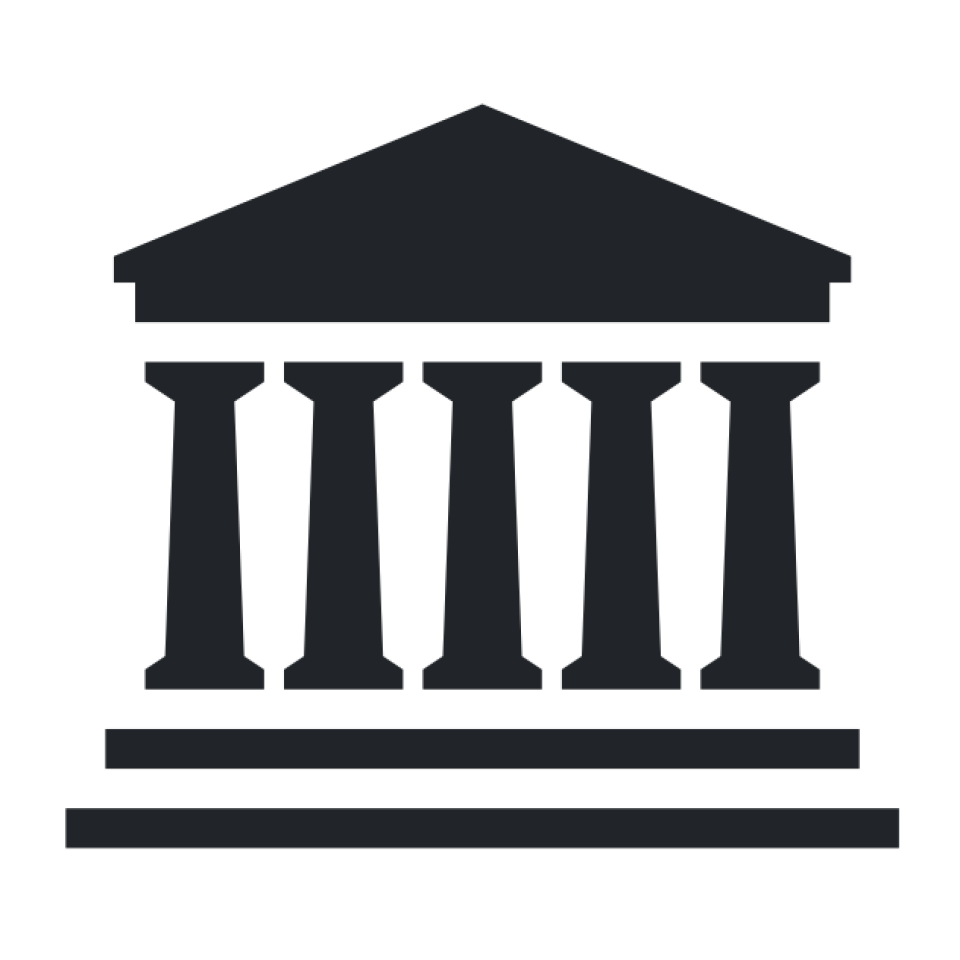 6 UTAH ACADEMIC INSTITUTIONS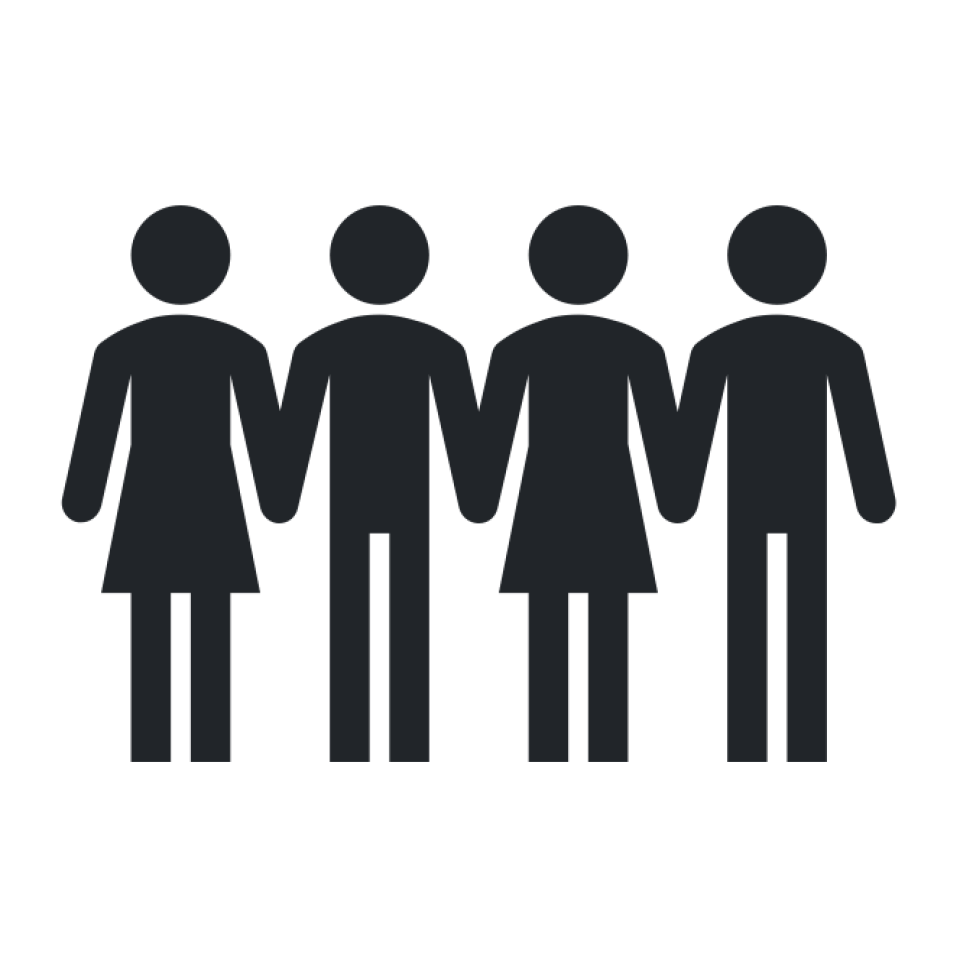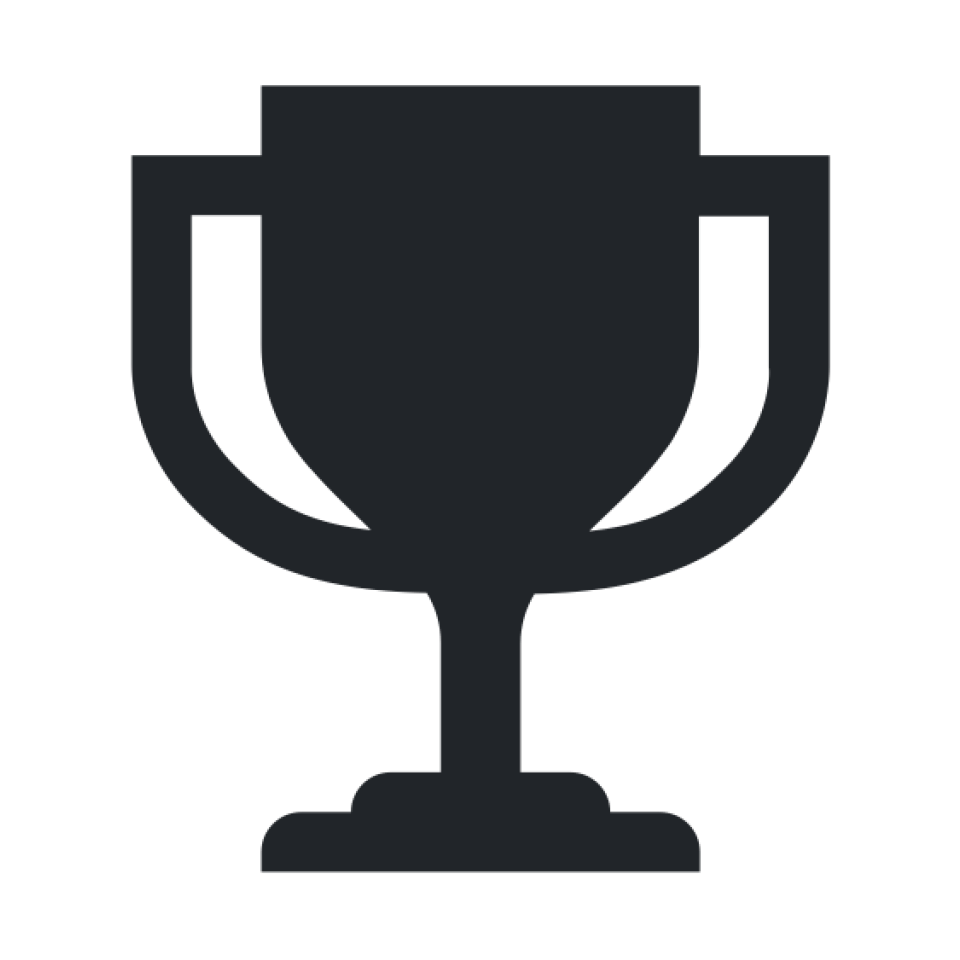 $82,500 MILESTONE FUNDING AWARDED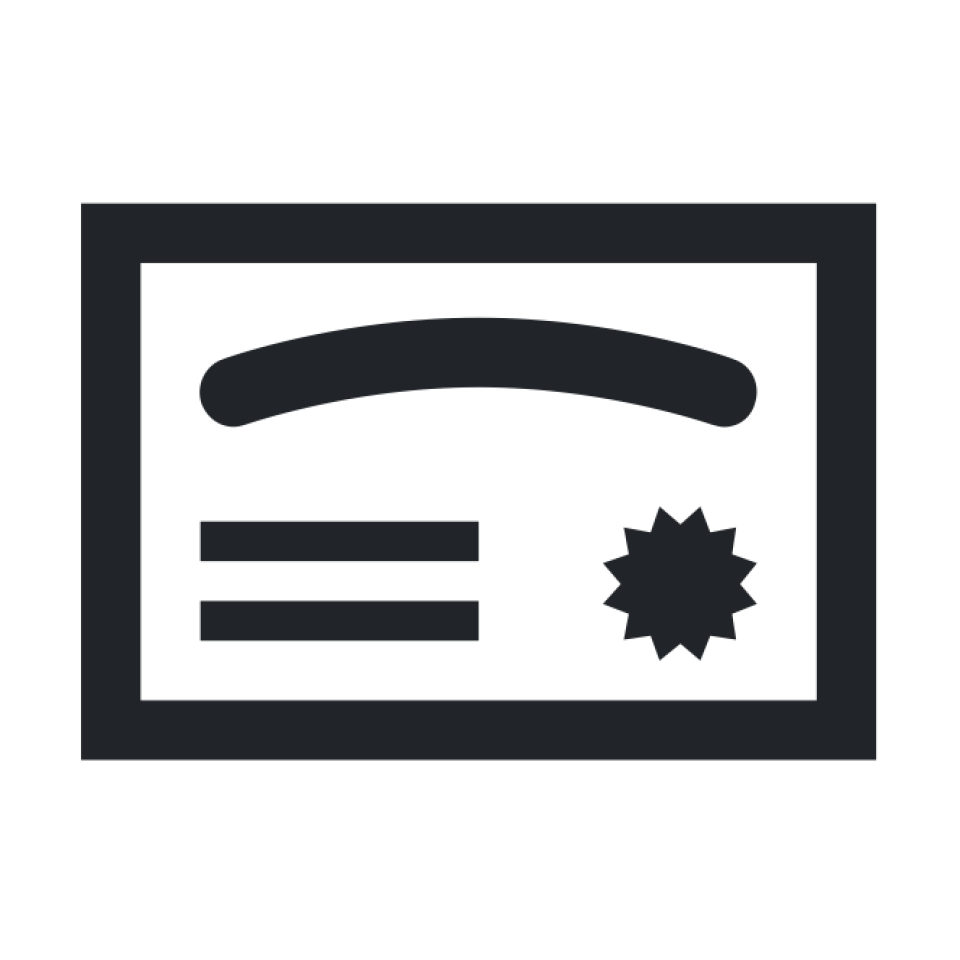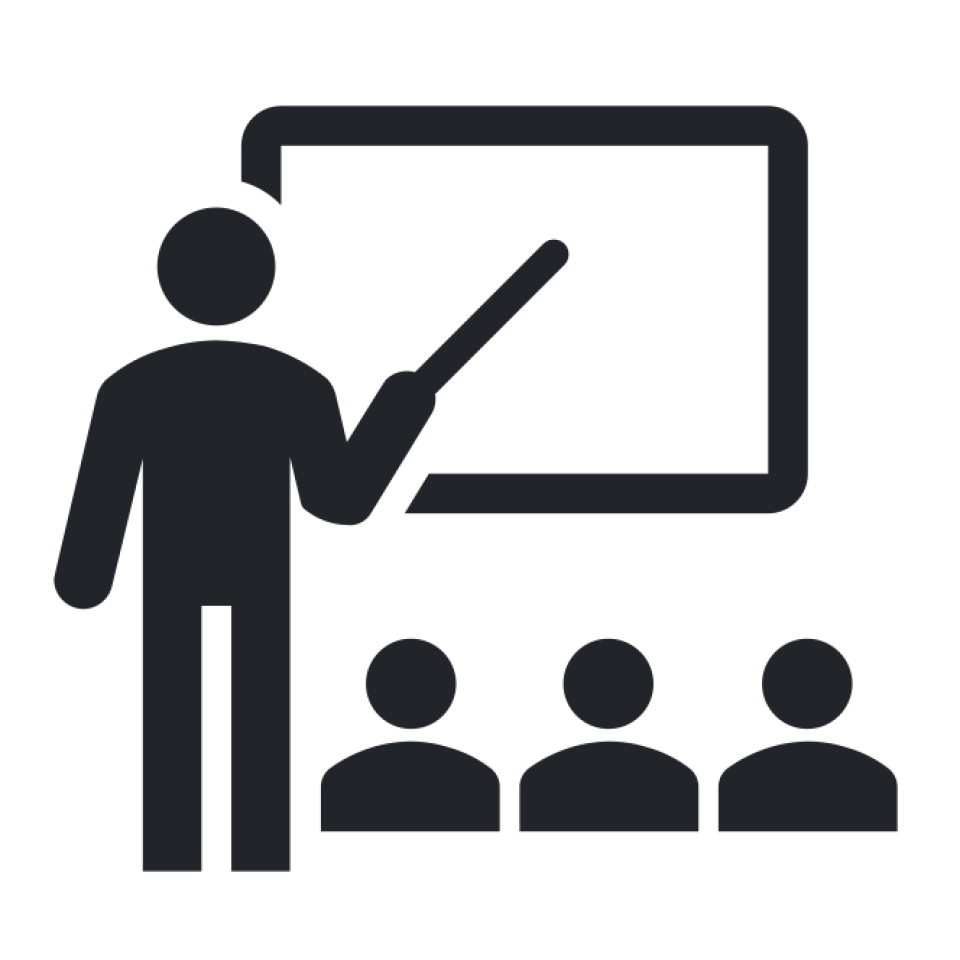 63 INDUSTRY & CLINICAL MENTORS
Click the Teams Gallery Box below to expand the page and learn more about each of the competing teams in Bench to Bedside 2021-2022
All 32 teams from the 2021-2022 Bench to Bedside competition listed alphabetically.

Admix
Actuator Sleeve
Aether Masks
Breath of Life
Dosara
EaziStep
Enduo
Ergoworks

Hyspec
Innovo Innovations: T-Band
LaparoVision
LERC Medical
Lybb Tech: Auto-braking walker
Mapigo
NeoTec
NeoVita

Nocturnal Neuro
OcuLance
ON-V
Pegasus
Protean Medical
Relay
SaltTech
Sleep Easy Solutions

Sonador Lung AI
Stethoscreen
Sustentaculum Tali: Amoveo Device
ThermoBreathe
Tongue Tamer
Tremor Evaluation & Active Monitoring (TEAM)
uAIR Mini Inhaler
Virtual Anesthesia Assistant (VAnA)

ADMIX

Grand Prize Runner-Up Award Winner ($10,000)

ADMIX created a simple, low-cost buffering device, which utilizes existing anesthesia equipment which dentists can use to administer localized anesthetics more effectively.

Team Members: James Linton, Chloe Flach, Russell Flynn

Actuator Sleeve

We utilize compliant mechanisms in series in the creation of our thin, breathable sleeve that harnesses potential energy around any joint. The actuator sleeve offers support and releases stored energy to help people lift objects. This support is completely tunable to optimize help with anything from everyday tasks to heavy lifting.

Team Member(s): Antoine Pautrat, Alessandro Sanchioni

Aether Masks

87% of healthcare professionals report eyewear fogging as a problem while wearing a mask. Aether Masks has developed a novel surgical mask that provides users with a more comfortable, fog-free solution while maintaining high standards in particulate filtration and efficacy. This innovative, fog free mask technology and patented design will be licensed to existing mask manufacturers in both healthcare and consumer markets. 

Team Members: Chance McCutcheon, Michael Adkins, Mykell Johnson, Eleonora Marcacci, Brian Truong, Spencer Peterson

Breath of Life

Breath of Life is a choking rescue device designed to meet the panicked urgency of a choking emergency. The Breath of Life is unique among competitors because with the push of a button, it can be used with one hand, is compact for convenient storage, is intuitive to use, and fits any size person. The Breath of Life is a great companion to other similar emergency devices in which a medical emergency must be addressed quickly in order to save a life.

Team Member(s): Elizabeth Jefferies

Dosara

The opioid crisis is getting a lot worse: every day, 4,400 people misuse prescription opioids for the very first time. Where will they be a year from now? We need to be there in that moment of weakness, when a patient in a lot of pain wants just one more pill. We have designed a lid that snaps onto the standard orange prescription bottles and dispenses one dose of medication at exactly the timeframe a doctor prescribes.

Team Member(s): Caleb Greaves, Ryan Tanner

EaziStep

Best in Engineering Award Winner ($5,000)

The alternative to crutches that works with the body's natural biomechanics, EaziStep has the potential to accelerate recovery, reduce muscle atrophy, and return patients to activity faster all, while keeping the user hands-free.

Team Member(s): Joshua Vanderpool

Enduo

For many women undergoing procedures requiring entry through the cervix for procedures such as endometrial biopsies and IUD device placement, the pain from multiple procedures and biopsies can be severe. Enduo tackles this pain by providing a superior endometrial biopsy pipelle with a cannula that once placed, provides a painless passageway through the cervix, effectively eliminating unnecessary pain.

Team member(s): Nicole Ewer, Courtney Kenyon, Jason Manning, Rhett Fackrell, Ivy Hansen, Hailie Gill

Ergoworks

Back and neck pain is commonly reported in dentists, surgeons, and other healthcare professionals. ErgoWorks has developed an ergonomic  chair designed with providers in mind to reduce back pain and the need for occupational therapy and other pain management.

Team member(s): Emma Stevulak

Hyspec

A hand-held Periodontal spectral device and software that allows for increased efficiency, accuracy, and patient comfort during a periodontal  evaluation.

Team member(s): Christopher Christiansen

Innovo Innovations: T-Band

Our product the T-Band helps secure the arm of unconsciousness patients during humeral intraosseous (IO) insertion to prevent IO dislodging. Along with any other moments the arm(s) need securement.

Team member(s): Mark Wahlen, Thomas Illu, Josh Mayhew, Seth Illu

LaparoVision

Bloom Surgical is developing the first commercially viable in vivo solution for contaminated laparoscopic lenses. This safe and disposable mini  laparoscope "windshield wiper", called LaparoVision, quickly eliminates lens contaminants (i.e. condensation, fluid, debris, and cautery) to  produce the sharp, unobstructed visualizations vital for laparoscopic surgery.

Team member(s): Jacob Sheffield

LERC Medical

Grand Prize Award Winner ($20,000)

Current surgical and intensive care unit oxygen saturation (SpO2) measurements are taken peripherally, leading to inaccurate readings and negatively impacting patient care. The Dual Function Esophageal Probe measures oxygen saturation and temperature centrally via the esophagus, improving accuracy and reducing the number of wires in the operating theatre that create a clinical obstacle.

Team member(s): Lauren Slattery, Emma Slominski, Robert Falconer, Catherine Augustine

Lybb Tech

Best in Medicine Award Winner ($5,000)

One in four seniors fall every year, resulting in 8 million injuries and %50 billion per year in unnecessary medical costs in the United States. The LybbTech Guardian Walker detects imminent falls using electronic sensors and automatically applies the walker brakes to prevent the fall.

Team member(s): Carter Lybbert

Mapigo

Anesthesiologists need a better way to monitor oxygen levels while patients are intubated/under anesthesia. We have incorporated pulse-oximeter sensor technology with existing endotracheal tubes.

Team member(s): Arnold Gatoro, Eric Barragan, Gnoulelein Tako

NeoTec

Eccles & Marriott Libraries Award Winner ($5,000)

Preterm neonates are exposed to continuous vibrations during emergency transport, causing severe brain bleeding. NeoTec has developed a vibration-dampening device to mitigate the risk of hemorrhaging in neonates.

Team member(s): Carter Lybbert, Hannah Duffy, Amanda Horiuchi, Dustin Payne, Cameron Pascua

NeoVita

Newborns are the most vulnerable childhood population, and this is exacerbated in low resource settings where vital sign tracking and  monitoring is severely limited. To improve newborn health outcomes, our team has created the NeoVita device – a low-cost, portable neonatal scale and vital sign monitor – to provide accurate and reliable health tracking of newborns.

Team member(s): Sam Nelson, Amanda LeMatty, Kaleb Reecy, Michael Malmberg

Nocturnal Neuro

Nearly a third of children from ages 2 to 13 have experienced somnambulism (sleepwalking), with at least 5% experiencing an episode within the last 12 months. The Nocturnal Neuro is a device which detects the signature electrical waves in a child's brain and patterns in physical movement which may indicate an episode of somnambulism, and then trigger multiple customizable stimuli (such as auditory, tactile, or olfactory) to  comfortably wake up the wearer. 

Team member(s): Meghna Patel, Joseph Arrington, Shirley Ricks, Lamont Bushman, Krischa Arrington

OcuLance

The Oculance is a prototype device aimed to solve a critical issue in healthcare: identifying patients with large vessel occulsions in the brain (a typical indicator someone may be having a stroke). Our device allows prehospital personnel to identify and triage these individuals to an appropriate hospital with the goal of reducing morbidity, mortality and healthcare expenditures.

Team member(s): Ann Rowley, Jenna Jensen, David Jiang, Gauri Garg, Angela Parker

ON-V

Kyphosis and lower back pain are prevalent among dentists, affecting around 44.9% of dentists. ON-V gives the dentist an intra-oral view during dental procedures, while keeping their neck and head in a neutral position, reducing the risk of developing thoracic kyphosis. 

Team member(s): Jacqueline Huynh, Shelby-Jade Murdock, Parker Mason, Sam McConnell, Paul Flake

Pegasus

Medical line management is an essential but frustrating aspect of the patient standard of care; breakaway safely mechanisms have been largely adopted from aeronautics or mining, which has limited their utility in the medical environment. The novel breakaway mechanism of the Pegasus achieves a superior safety profile with lower manufacturing costs than current commercial solutions.  

Team member(s): Luke Son

Protean Medical

Global Health Award Winner ($5,000)

Adequate lighting is a necessity when performing surgery. Protean Medical seeks to provide surgeons in a wide range of specialties with a versatile light source at the surgical field level; all in an inexpensive, wireless, disposable package.

Team member(s): Jordan Johnson, Gregory Mayer

Relay

Best in Digital Medicine Award Winner ($5,000)

Individuals often struggle in isolation to overcome addictions and mental health challenges, perpetuating the problems they experience. To combat this, our team built and launched Relay, a mobile app for team-based addiction recovery and self-improvement.

Team member(s): Nicholas Van Slooten, Chandler Rogers, Jace Kendrick

SaltTech

Consumer's Choice Award Winner ($2,500)

Current pulse oximeters provide inaccurately high readings for people with darker skin pigmentation, which leads to poor healthcare outcomes. SaltTech provides an improved pulse oximeter that more accurately assesses oxygenation levels for individuals of all skin tones.

Team member(s): Natalie Haerter, Samantha Vranes, Mitch Kirkham, Sam Nelson, Tanner McKinnon, Christopher Clinker, James Linton

Sleep Easy Solutions

Sleep Easy technology is improving the quality of sleep for patients with chronic oxygen needs, including hypoxia (blood oxygen levels which drop while at rest). Our patent pending pillow attachment, the Oxyllow, provides a safe, comfortable and efficient way for patients to receive their therapy. 

Team member(s): Aaron Esplin

Sonador Lung AI

Lung cancer has become one of the world's deadliest diseases due to the lack of detection of the disease in its early stages. Sonador Lung AI uses machine learning in image analysis to automatically detect cancerous attributes in both CT and XRAY scans. The system helps clinicians  efficiently diagnose lung cancer in its earlier stages with higher accuracy and confidence.

Team member(s): Brandon Harper, Carson Young, Isaac Parry

Stethoscreen

When learning to listen for specific conditions throughout the body, it can be difficult for health care providers to distinguish the unique sound patterns. Give any stethoscope an upgrade with this electronic add-on device that allows you to see the sounds picked up by your stethoscope.

Team member(s): Michael Angerbauer

Sustentaculum Tali: Amoveo Device

Amoveo is a comprehensive solution to wirelessly monitor electrocardiogram, electroencephalogram, blood pressure, respiratory rate, pulse oximeter, CO2 output, and heart rate. This cost-effective, user-modular system allows for wireless connectivity to a variety of current technology.

Team member(s): Koy Gubler, Marcos Muller, Matthew Boutelle

ThermoBreathe

Patients on non-acute humidified ventilation experience condensation in the airway tubing, leading to turbulent respiratory rate, bacterial  growth and insufficient humidification in the inspired oxygen. ThermoBreathe is a multilayer insulated heating sleeve that zips over respiratory tubing to regulate the external temperature within a desired range and prevent condensation from developing inside the tubing.

Team member(s): Kasper Koblanski, Samuel Campbell, Cara Woolnough

Tongue Tamer

The Tongue Tamer is an alternative medical device to the traditional tongue depressor. It utilizes  suctioning technology to hold the tongue in  place, which allows control of the tongue to increase the field of view for the provider, the ability for a more "hands free use" for improved procedures, and ultimately quicker and more effective oral examinations. It also eliminates any gag reflex that would occur as a result of using a traditional tongue depressor.

Team member(s): Christopher Christiansen, Clancy Christiansen

Tremor Exploration and Active Monitoring (TEAM)

Distinguishing different types of tremors in the clinical environment can be challenging given the reliance on subjective physical exams. Our  device seeks to quantitatively characterize tremor type and severity, which has the potential to improve diagnostic accuracy and track disease progression.

Team member(s): Troy McIntire, Ethan Melvick, Chance Endo, Justin Campbell

uAir Mini Inhaler

Legacy Grand Prize Award Winner ($20,000)

The uAir Mini rescue inhaler is a 40-dose horizontal rescue inhaler that fits in your pocket. uAir seeks to improve access and portability to life-saving albuterol rescue inhalers while reducing cost and medical waste associated with the standard albuterol inhalers currently on the market.

Team member(s): Teryn Holeman, Brian Parker, Nicholas Wallace, Alex Huhn

Virtual Anesthesia Assistant (VAnA)

Best in Business Award Winner ($5,000)

VAnA is a Virtual Anesthesia Assistant that is changing the way anesthesia teams work through the seamless integration of anesthesia equipment. The integrations we build allow for improved patient safety and decreased physician burnout through features such as voice controlled activity recording for nurse anesthetists and patient overview dashboards for attendings.

Team member(s): Travis Hotchkiss, Alan Clegg
PHOTOS FROM B2B COMP NIGHT | APRIL 11, 2022