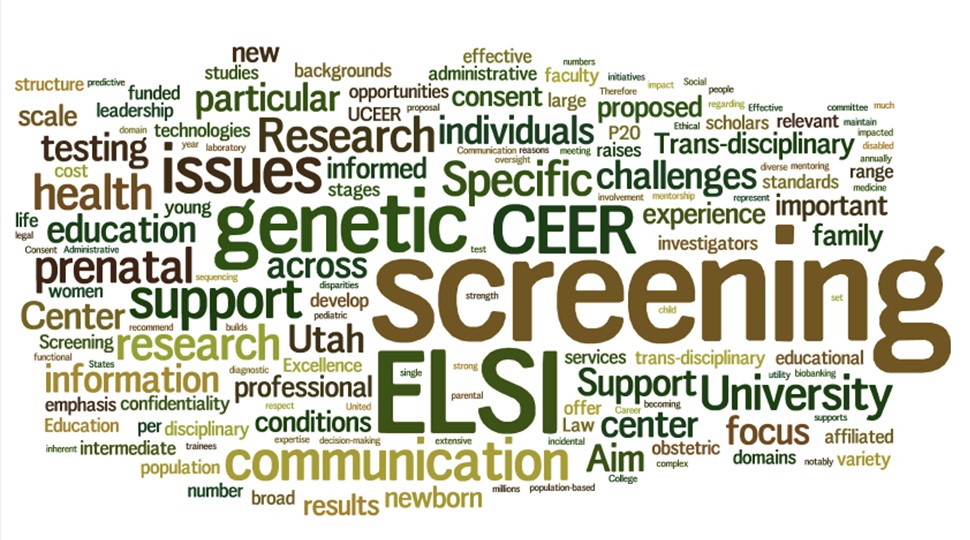 Funding and Support
Newborn Screening
Newborn screening is conducted on approximately four million infants per year in the United States and represents the single largest application of genetic testing.1 Contemporary obstetric standards recommend an offer of genetic screening to all pregnant women.2 Therefore prenatal and newborn screening services impact millions of individuals annually and represent important elements in pediatric and obstetric health care.
The ELSI challenges in the context of population screening are different from issues that arise in diagnostic or predictive genetic testing in high-risk individuals.  In prenatal and neonatal screening, there are dilemmas over professional standards for new screening initiatives, information delivery, informed consent, professional and lay education, cost effectiveness, utility, and management of initial positive results.  A particular emphasis of our proposed center will be issues related to parent/couple information, professional training, and informed consent.
Applying New Technology
These challenges are not new but they are becoming more prevalent and complex as new technology offers prospects of screening for a much larger number of conditions with less invasive techniques and lower cost per test.  The challenges of ELSI research in these domains will be addressed through a trans-disciplinary center at the University of Utah and collaborating institutions that has extensive expertise, experience, and resources to pursue this important work.
Specific Aims
Our specific aims under the RM1 are designed to build our capacities in research and training.
To Support Trans-disciplinary ELSI Research Relevant to Population-based Screening
To Support Trans-disciplinary ELSI Research on Informed Consent and the Effective Communication of Genetic Information
To Support ELSI Education and Career Advancement  
To Support an Administrative Structure for Trans-disciplinary Research and Education
Read more about our specific aims.
Centers
University of Washington Center for Genomics and Health Care Equality
Keywords: Translation, clinical integration, disparities
Stanford University School of Medicine Center for Integration of Research on Genetics and Ethics 
Keywords: behavior, society
The Duke Center for the Study of Public Genomics
Keywords: data sharing, patenting, information, commercialization
Case Western Reserve University Center for Genetic Research Ethics and Law (CGREAL) 
Keywords: research design and conduct, human subjects protections
Center for Genomics and Society at University of North Carolina-Chapel Hill 
Keywords: large-scale gene discovery, disclosure, translation to practice
Center for ELSI of Psychiatric, Neurologic & Behavioral Genetics at Columbia University Medical Center 
Keywords: Psychiatric, Neurologic & Behavioral genetics, familiar, societal, stigma, self-image
University of Pennsylvania Center for the Integration of Genetic Healthcare Technology (Penn CIGHT) 
Keywords: communication, uncertainty, insurers, consumers