Elizabeth Fuhriman Gardner Prize
WiHMS facilitates the Elizabeth Fuhriman Gardner Prize each year. The Gardner Prize is awarded to two students, one from the School of Dentistry and another from the Health Sciences (College of Health, College of Nursing, College of Pharmacy, School of Medicine).
Background:
Elizabeth (Libby) Fuhriman Gardner possessed a quiet inner strength and dignity, uncommon grace and graciousness, and an exceptional ability to deal with the demanding realities of life while retaining a firm sense of self and family.  Her family life was one of devotion to and partnership with her husband, David, and four daughters.  She brought a consistent commitment and a thoughtful, constructive influence to her public responsibilities.  As First Lady of the University of Utah from 1973 to 1983, she became a strong advocate for and an effective ambassador of the University throughout Utah, the nation and the world.  Expressing her belief and confidence in education, young people and, especially, women students, she contributed significantly to the advancement of the University and its mission.  Libby was a health sciences graduate in the field of dental hygiene, graduating from the University of California at San Francisco in 1958.  It is hoped that the Elizabeth Fuhriman Gardner Prize, an annual award established by her many friends and members of her family to honor Outstanding Women Students in the Health Sciences, shall perpetually pay respect to her, her love for this University and all the good she has done here.
Details about the Gardner Prize selection and awarding process will be available Fall 2020.
2020 Elizabeth Fuhriman Gardner Prize Winners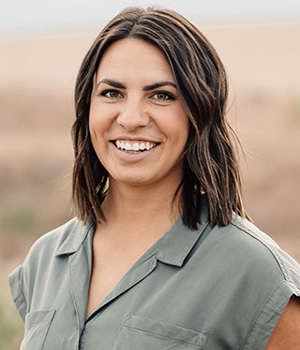 Kennedy Springer
MD Candidate, Class of 2020
School of Medicine
Kennedy is a graduate from the Coordinated Master'''s Program in Nutrition and Dietetics. She is an exceptional student, with a 4.0 GPA attained both in graduate school and in undergraduate studies. As a cancer survivor, Kennedy had a drive to conduct research at the Huntsman Cancer Institute. With her strong academic background, Kennedy is translating this drive for her innovative thesis project entitled, "Metabolomic profiles of inflammatory and insulinemic dietary patterns and endometrial cancer incidence," with Huntsman Cancer Institute investigator, Mary Playdon PhD. The purpose of the thesis project was to identify nutritional metabolites associated with inflammatory and insulinemic dietary potential, as pathways linked to the risk of endometrial cancer.
Kennedy displayed amazing leadership as a volunteer assistant volleyball coach at Utah State University Eastern soon after finishing chemotherapy treatments. Her dedication was highlighted by the Deseret News Sports section in the article: "Utah State Eastern volleyball: newest Eagle showing team what it means to overcome." Furthermore, Kennedy has demonstrated an extensive commitment to community service in rural areas and to the University of Utah.
Yuliya Petukhova
DDS Candidate, Class of 2020
School of Dentistry
During her time at the University of Utah School of Dentistry, Yuliya participated in public health research and self-organized outreach events. The highlights of her experience include fundraising for pediatric service through sale of her own artwork, and organizing pre-dental experiences for minority undergraduate and high school students.  Following graduation, Yuliya will begin a residency program in oral and maxillofacial surgery at the Mayo Clinic in Rochester, Minnesota.
Past Gardner Prize Recipients
2020

Kennedy Springer (Nutrition and Dietetics)

Yuliya Petukhova (Dentistry)

2019

Simranvir Kaur (Medicine)

Anjanette W. Walsh (Dentistry)

2018
Dallas Shi (Medicine)
2017
Corinna M. Trujillo (Nursing)
2016
Alexis Pearl Lee (Health)
2015
Allyson Armstrong (Health)
2014

Maureen Henry (Nursing)

Meghan Cirulis (Medicine)
2013
Erin Johnson Cole (Nursing)
2012
Elise M. Mecham (Medicine)
2011
Melissa Brewster (Pharmacy)
2010
Shadi Ghaibi Clark (Pharmacy)
2009

Barbara Roper (Pharmacy)

Julie Valentine (Nursing)

2008

Anisa Ramaileh (Pharmacy)

Nicole Wilde (Medicine)

2007
Tamara Pascoe (Medicine)
2006
Abril Atherton (Pharmacy)
2005
Alison Nicole Shiffern (Medicine)
2004
Cathyyen Dang (Pharmacy)
2003
Eugena Lie Paolin Baca (Nursing)
2002
Kristen Smith (Pharmacy)
2001
Kristine M. Tanner (Health)
2000

Roxanne Van Beekum (Pharmacy)

Ivonne Zurita (Nursing)

1999
Rene C. Hunter (Medicine)
1998
Julie Kenney (Pharmacy)
1997

Jennifer White Boyden (Medicine)

Karen Gunning (Pharmacy)

1996

Jodi Brookins-Fisher (Health)

Kimberly Ann Townsend (Nursing)

1995
Celia Blackburn (Medicine)
1994

Laura Davenport (Medicine)

Lindy Sue Gomez (Nursing)

1993
Michelle Moulton (Health)
1992
Sandra W. Bagley (Nursing)
Contact Us
Phone: 801-585-0846
Email: wihms@hsc.utah.edu
University of Utah Health Equity, Diversity, & Inclusion
26 South 2000 East
5750B HSEB
Salt Lake City, Utah 84112
Wednesday
December 21, 2022
Holiday Mini-Concert Series--Spiritual Wellness Event
Welcome one and all Carolers ., Join us for a joyful Christmas Music Sing-a-Long when we gather around the ...